Are you ready to learn?
Why do homework? How can parents and guardians help their child with their school responsibilities?
Quizzes and Glossaries for Students and Teachers What time is it?
Today is Tuesday May 30, 2023 at 12:21. Today is a great day to be alive!

Virtue
From David Spencer's Education Paragon: Helping students develop citizenship, faith, literacy, responsibility and vision
David Spencer's Education Paragon is a free educational resource portal helping David Spencer's secondary school students, their parents and teaching colleagues with understanding, designing, applying and delivering assessment, curriculum, educational resources, evaluation and literacy skills accurately and effectively. This wiki features educational resources for Indigenous Aboriginal education, field trips for educators, law and justice education, music education and outdoor, environmental and experiential education. Since our web site launch on September 27, 2006, online site statistics and web rankings indicate there are currently 1,888 pages and 20,185,651 page views using 7.85 Gig of bandwidth per month. Pages are written, edited, published and hosted by Brampton, Ontario, Canada based educator David Spencer. On social media, you may find David as @DavidSpencerEdu on Twitter, as DavidSpencerdotca on Linkedin.com and DavidSpencer on Prezi. Please send your accolades, feedback and resource suggestions to David Spencer. Share on social media with the hashtag #EducationParagon. Thank you for visiting. You may contact David Spencer here.
The following resources are helpful to parents and teachers:

---
< Home

| Categories | Courses | Educators | Glossary | Images | Literacy | New | Parents | Popular | Search | Students
---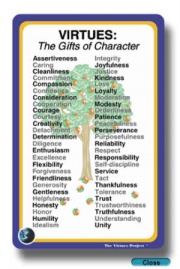 Virtue
A virtue is a characteristic of a person which supports individual moral excellence and collective well being. Such characteristics are valued as a principle and recognized as a good way to be. See a list of virtues from the The Virtues Project™.
The Virtues Project™ was founded in Canada in 1991 by Linda Kavelin-Popov, Dr. Dan Popov and John Kavelin. It was honored by the United Nations during the International Year of the Family as a "model global program for families of all cultures". Download a family virtues poster (PDF). The Virtues Project™ helps parents to awaken the qualities of character that exist in potential in their children. By speaking the language of virtues, setting virtues-based boundaries and recognizing teachable moments, we bring out the best in our children -- and ourselves. We become mentors helping our children to become compassionate, courageous, respectful, confident and purposeful. The greatest gift we can give our children is the authentic self-esteem that comes from developing their virtues -- becoming contributors rather than consumers. The world needs people willing to take personal responsibility. Let it be this generation.
Virtues of Kindness
As suggested by Wikipedia.org Authors.
Kindness - regard for those who are within an individual's ability to help
Generosity - giving to those in need
Forgiveness - willingness to overlook transgressions made against you
Compassion - empathy and understanding for the suffering of others
Virtues of Self Control
As suggested by Wikipedia.org Authors.
Ambition - self-control regarding one's goals
Contentment - self-control regarding one's possessions and the possessions of others; acknowledgement and satisfaction of reaching capacity
Curiosity - self-control regarding knowledge
Continence - self-control regarding bodily functions
Frugality (also Thrift) - self-control regarding the material lifestyle
Industry - self-control regarding play, recreation and entertainment
Temperance - self-control regarding pleasure
Temper - self-control regarding anger
Virtues of Regard
As suggested by Wikipedia.org Authors.
Fair-mindedness - concern that all get their due (including oneself) in cooperative arrangements of mutual benefit
Tolerance - willingness to allow others to lead a life based on a certain set of beliefs differing from ones own
Truthfulness/Honesty - telling someone what you know to be true in the context of a direct inquiry
Virtues of Respect
As suggested by Wikipedia.org Authors.
Humility - respect for one's limitations
Respect - regard for the worth of others
Self respect - regard for the worth of oneself
Social virtues: Politeness, Charisma, Unpretentiousness, Friendliness, Sportsmanship, Cleanliness
Virtues of self-efficacy
As suggested by Wikipedia.org Authors.
Courage - willingness to do the right thing in the face of danger, pain, significant harm or risk
Patience - ability to delay or wait for what is desired
Perseverance - courageous patience, integrity
Persistence - ability to achieve objective regardless of obstacles
Teaching Responsibility
References