Are you ready to learn?
Why do homework? How can parents and guardians help their child with their school responsibilities?
Quizzes and Glossaries for Students and Teachers What time is it?
Today is Saturday June 3, 2023 at 15:45. Today is a great day to be alive!

Tour the Six Nations of the Grand River
From David Spencer's Education Paragon: Helping students develop citizenship, faith, literacy, responsibility and vision
David Spencer's Education Paragon is a free educational resource portal helping David Spencer's secondary school students, their parents and teaching colleagues with understanding, designing, applying and delivering assessment, curriculum, educational resources, evaluation and literacy skills accurately and effectively. This wiki features educational resources for Indigenous Aboriginal education, field trips for educators, law and justice education, music education and outdoor, environmental and experiential education. Since our web site launch on September 27, 2006, online site statistics and web rankings indicate there are currently 1,888 pages and 20,185,651 page views using 7.85 Gig of bandwidth per month. Pages are written, edited, published and hosted by Brampton, Ontario, Canada based educator David Spencer. On social media, you may find David as @DavidSpencerEdu on Twitter, as DavidSpencerdotca on Linkedin.com and DavidSpencer on Prezi. Please send your accolades, feedback and resource suggestions to David Spencer. Share on social media with the hashtag #EducationParagon. Thank you for visiting. You may contact David Spencer here.
The following resources are helpful to parents and teachers:

---
< Home

| Categories | Courses | Educators | Glossary | Images | Literacy | New | Parents | Popular | Search | Students
---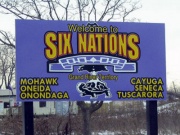 Tour the Six Nations of the Grand River
Educators may wish to plan a tour of the Six Nations of the Grand River in southern Ontario, Canada. The following contacts and resources will help you connect and plan your tour.
Events in and Around Six Nations of the Grand River
History of Six Nations of the Grand River
The Six Nations of the Grand River Territory is a league of nations comprised of the Onondaga, Cayuga, Seneca, Mohawk, Oneida, and Tuscarora. The Tuscarora who are originally from North Carolina joined the confederacy in 1722.
Well Known People from Six Nations of the Grand River
"There are many famous people who have come from the Six Nations of the Grand River. These notables include Jay Silverheels or better known as Tonto in the Lone Ranger, Academy nominated actor Graham Greene – "Dances with Wolves" , Roberta Jamieson – Canada's First Indigenous Female Lawyer and Ombudsman of Ontario, Santee Smith – trained with the National Ballet of Canada, Robbie Robertson – from the legendary rock group The Band, Stan Jonathan – played hockey for the NHL's Boston Bruins, Gaylord Powless – one of Canada's finest Lacrosse players, Tom Longboat – long distance Marathon runner, and Emily Pauline Johnson – renowned Mohawk Poetess." Source: Our History:Six Nations of the Grand River
Chiefswood National Historic Site
Sitting atop the rolling hills of Six Nations Chiefswood National Historic Site was built in 1856. The site is the birthplace and home of famed Canadian poet and writer, Pauline Johnson. Today, Chiefswood National Historic Site is open to the public and features tours throughout the home and estate daily. Open May (Victoria Day, by appointment only), October (10am - 3pm) and November.
Chiefswood National Historic Site
1037 Hwy 54,
Ohsweken, ON N0A 1M0

phone: 519-752-5005
Six Nations of the Grand Band Office
Six Nations of the Grand River Elected Council
1695 Chiefswood Rd.
Ohsweken ON N0A 1M0
phone: 519-445-2201
Six Nations Polytechnic
Six Nations Polytechnic is an Aboriginal community-controlled, community based human resource development center addressing issues and needs from an Aboriginal perspective. Six Nations Polytechnic offers programs and courses of study in partnership with all levels of government; commissions; industries; commerce and other education and training institutions with an emphasis on developing and promoting the retention of Hodinohso:ni/Rotinonshonni culture and languages: and to reflect the cultural values of Hodinohso:ni/Rotinonshonni.
Six Nations Polytechnic
2160 Fourth Line
P.O. Box 700
Ohsweken, ON N0A 1M0
phone: 519-445-0023 ask for Linda Staats.
Six Nations Public Library
Six Nations Public Library
P.O. Box 149
1679 Chiefswood Road
Ohsweken, ON N0A 1M0
phone: 519-445-2954 ask for Sabrina Redwing Saunders, CEO/Director of Library Services.
Iroqrafts
Iroqrafts sells Traditional & Ceremonial Iroquois Crafts & Arts from the Six Nations Reserve and from Indian and Inuit communities. They have been serving museums, collectors and retailers since 1959.
Iroqrafts
1880 Tuscarora Road
RR #2
Ohsweken, Ontario N0A 1M0

phone: 1-519-445-0414
Royal Chapel of the Mohawks
Her Majesty's Royal Chapel of the Mohawks is the oldest "Protestant" church in Ontario, constructed in 1785. The grounds of the Mohawk Chapel is the final resting place of Joseph Brant and his son John Brant. The Chapel is open to the public from May to the end of October.
Royal Chapel of the Mohawks
301 Mohawk Street,
Brantford, Ontario

phone: 519-756-0240
Six Nations Tourism
Six Nations Tourism will educate the general public and foster the development and promotion of culturally and historically significant sites, facilities, organizations, events, attractions, and services in Six Nations of the Grand River.
Six Nations Tourism
Oshweken, ON
Phone: 1-866-393-3001 ask for Eydie Styres, Tourism Manager
Woodland Cultural Centre
The Woodland Cultural Centre is a First Nations educational and cultural centre. It was established in 1972 to protect, promote, interpret and present the history, language, intellect and cultural heritage of the Onkwehon:we.
Woodland Cultural Centre
184 Mohawk Street Brandford ON, N3T 5V6
Phone: 519-759-2650 ask for Tara Froman the Museum Education Co-ordinator.