Are you ready to learn?
Why do homework? How can parents and guardians help?
What time is it? When are my units and coursework due?
Today is Sunday June 20, 2021 at 04:51. Today is a great day to be alive!

The Third Wave
From David Spencer's Education Paragon: Helping students develop citizenship, faith, literacy, responsibility and vision
David Spencer's Education Paragon is a free educational resource portal helping David Spencer's secondary school students, their parents and teaching colleagues with understanding, designing, applying and delivering assessment, curriculum, educational resources, evaluation and literacy skills accurately and effectively. This wiki features educational resources for Indigenous Aboriginal education, field trips for educators, law and justice education, music education and outdoor, environmental and experiential education. Since our web site launch on September 27, 2006, online site statistics and web rankings indicate there are currently 1,883 pages and 19,171,729 page views using 7.85 Gig of bandwidth per month. Pages are written, edited, published and hosted by Brampton, Ontario, Canada based educator David Spencer. On social media, you may find David as @DavidSpencerEdu on Twitter, as DavidSpencerdotca on Linkedin.com and DavidSpencer on Prezi. Please send your accolades, feedback and resource suggestions to David Spencer. Share on social media with the hashtag #EducationParagon. Thank you for visiting. You may contact David Spencer here.
---
< Home

| Categories | Courses | Educators | Glossary | Images | Literacy | New | Parents | Popular | Search | Students
---
The Third Wave
What came to be known as the "Third Wave" began at Cubberly High School in Palo Alto as a game without any direct reference to Nazi Germany, says Ron Jones, who had just begun his first teaching job in the 1966-67 academic year. When a social studies student asked about the German public's responsibility for the rise of the Third Reich, Jones decided to try and simulate what happened in Germany by having his students "basically follow instructions" for a day.
Before students arrived for class on Monday, Jones vigorously cleaned his classroom and arranged the desks in unusually straight rows. He dimmed the lights and played Wagnerian music as students drifted in for class. Then Jones, a popular instructor who normally avoided even such regimentation as taking roll, told his students that he could give them the keys to power and success - "Strength Through Discipline."
Jones considered calling a halt, but then went to the blackboard and wrote "Strength Through Community" below the previous day's slogan, "Strength Through Discipline."
"I began to lecture on community - something bigger than oneself, something enjoyable. They really bought that argument," Jones recalls.
A powerful sense of belonging had sprung up among lowly sophomores at the bottom of the rung of the three-year school, and Jones admits he soon became a part of the exercise as well as its leader.
Elwood P. Cubberley Senior High School (view photos), Palo Alto, California, USA. The Ron Jones classroom was room C-3, and the final rally was in room H-1. The high school was closed in 1979, and the facility is now the Cubberley Community Center. There were also 3 Third Wave classes going simultaneously
between 5 and 8 school days
The school newspaper at the time said it ended on Wednesday, April 5, 1967 (Catamount, April 21, 1967, page 3), so it likely ran sometime between Monday, March 27, 1967 and Wednesday, April 5, 1967.
Ron Jones' class was called "Contemporary World", and was a history class as part of the Social Studies Department. Subjects in Jones' class prior to The Third Wave included Russia, China and Africa (including an "Apart-Hate" classroom experiment with the students). The Third Wave was part of the study of world conditions and events that led up to WWII.

Ron Jones was 25 year old young teacher very supportive of his students and those around him,

students were mostly age 15, and in 10th grade ("Sophomores"). There were additional Cubberley students who regularly skipped other classes to attend Jones' classes, and still more who were recruited as new Third Wave members by the students.

It began as a game in class, was initially fun, and school grades depended on active participation. Ron Jones was the most popular teacher in school, young, and very charismatic. The students had already been in the class with him for 6 months, they trusted him, and this was not the first experiment they had done in class. When it became "real" there was promise of a new national student movement that would do a better job running the country than the current "establishment" Democrats and Republicans who were pursuing the Viet Nam war. The boys in class were about 2 years from being subject to the military draft and being forced to fight in that war by the government (they also needed good grades to get into college where they could be deferred from military service).

there was an anti-Wave group known as the Breakers. They got a custodian to let them into Mr. Jones's room, and they put up anti-Wave posters. Then Bill and Hal got a custodian to let them in, and they took pictures of the posters. Source: Lyle Burkhead "The Third Wave - evidence from people who were there" <http://geniebusters.org/915/wave_statements.html>
Palo Alto was already the heart of "Silicon Valley" with Stanford University, think tanks, research institutions, aerospace facilities and early high-tech companies in the area.

Jones' Third Wave also caught the attention of Stanford University psychologist Philip Zimbardo, whose famous "Stanford prison experiment" several years later resulted in college students lapsing into sadism and eventual emotional breakdown after being assigned the role of guard in prison.
"Situations exert much more influence over human behavior than people acknowledge," explains Zimbardo, who has invited Jones to speak to classes many times.

Although Jones says he would never repeat the Third Wave, he insists it could easily happen today, anywhere in the United States, for a variety of reasons.
"Fascism is always a possibility because it's so simple and people are frustrated. They lose their jobs, their dignity, their sense of worth, and someone comes along and says, "I've got the answer."
School systems prepare the ground, Jones says by using only standardized tests for success and failing to recognize alternative paths of learning, as well as a wider variety of individual achievements.
Educational institutions weed out troublemakers and those who are difficult to teach, he contends, rewarding placid students who want to succeed at any cost and will accept authority.
"That's the sad thing. Teachers can trigger it by telling students they're special, they're part of a community, that they can do special things. All they have to give is their loyalty," Jones concludes. "It happens every day in school, only the paraphernalia isn't there. Kids aren't learning to ask questions. You create a population where freedom's just a spelling word."

References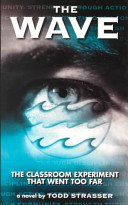 Who is Ron Jones ?
Ron Jones is the history teacher at Cubberley High School in Palo Alto, California, U.S.A. who conducted the experiment with his students called "The Third Wave". He is the son of a Jewish mother and an Irish Catholic father. Today, Ron Jones volunteers teaching poetry for the mentally disabled in San Francisco at Creativity Explored and coaches his granddaughter's 5th grade girls basketball team. He performs regularly on local stages as a poet and spoken word artist. He is the author of many books and winner of a Peabody Award for Outstanding Journalism and a Pulitzer Prize nominee.
Radio Interview About The Third Wave
"More than 40 years ago, a history teacher named Ron Jones unleashed a social experiment meant to teach his students a lesson about fascism. Five days later, it had spiraled out of his control. And today, his former students are still trying to decide how to think about what happened. Ron Jones joined us this morning to fill in the blanks. He was in San Francisco. Philip Neel was one of the students in Ron Jones' class in 1967. He is also the director of a new documentary about the experience called Lesson Plan: The Story of the Third Wave. Philip Neel was in Culver City, California. And Alyssa Reit is also another former student and is now a musician in New York City.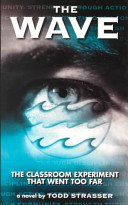 The Novel: The Wave
"The Wave" is a 1981 young adult novel by Todd Strasser under the pen name Morton Rhue. It is a novelization of a teleplay by Johnny Dawkins for the movie The Wave, a fictionalized account of the "Third Wave" teaching experiment by Ron Jones that took place in a Cubberley High School history class in Palo Alto, California. The novel by Strasser won the 1981 Massachusetts Book Award for Children's/Young Adult literature.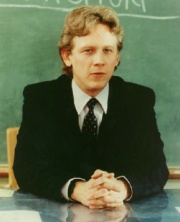 Movie: The Wave (1981)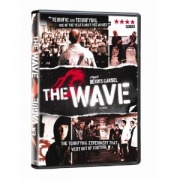 Movie: The Wave (2008)
Documentary "Lesson Plan"
Other Documentaries About The Third Wave
Web Sites About The Third Wave