Are you ready to learn?
Why do homework? How can parents and guardians help?
What time is it? When are my units and coursework due?
Today is Sunday June 20, 2021 at 06:22. Today is a great day to be alive!

Short Message Service (SMS)
From David Spencer's Education Paragon: Helping students develop citizenship, faith, literacy, responsibility and vision
David Spencer's Education Paragon is a free educational resource portal helping David Spencer's secondary school students, their parents and teaching colleagues with understanding, designing, applying and delivering assessment, curriculum, educational resources, evaluation and literacy skills accurately and effectively. This wiki features educational resources for Indigenous Aboriginal education, field trips for educators, law and justice education, music education and outdoor, environmental and experiential education. Since our web site launch on September 27, 2006, online site statistics and web rankings indicate there are currently 1,883 pages and 19,171,729 page views using 7.85 Gig of bandwidth per month. Pages are written, edited, published and hosted by Brampton, Ontario, Canada based educator David Spencer. On social media, you may find David as @DavidSpencerEdu on Twitter, as DavidSpencerdotca on Linkedin.com and DavidSpencer on Prezi. Please send your accolades, feedback and resource suggestions to David Spencer. Share on social media with the hashtag #EducationParagon. Thank you for visiting. You may contact David Spencer here.
---
< Home

| Categories | Courses | Educators | Glossary | Images | Literacy | New | Parents | Popular | Search | Students
---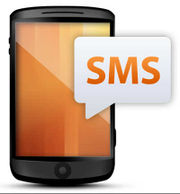 Short Message Service (SMS)
SMS is the acronym for Short Message Service and is also commonly referred to as a "text message". With a SMS, you can send a message of up to 160 characters to another cellphone or smartphone. Longer messages will automatically be split up into several parts.
The "short" part refers to the maximum size of a text message: 160 characters (letters, numbers or symbols in the Latin alphabet). For other alphabets, such as Chinese, the maximum SMS size is 70 characters.
SMS was created during the late 1980s to work with a digital technology called GSM (global system for mobile communications), which formed the foundation for modern cell phones. Norwegian engineers who invented SMS wanted a simple messaging system that worked when users' mobile phones were turned off or out of signal range from a tower. Most sources agree that the first SMS message was sent in the United Kingdom in 1992.
In 2010, SMS was the most widely used data application,with an estimated 3.5 billion active users, or about 80% of all mobile phone subscribers.
SMS is a store-and-forward service, meaning that when you send a text message to a friend, the message does not go directly to your friend's cell phone. The advantage of this method is that your friend's cell phone doesn't have to be active or in range for you to send a message. The message is stored in the SMSC (for days if necessary) until your friend turns his cell phone on or moves into range, at which point the message is delivered. The message will remain stored on your friend's SIM card until he deletes it.
Because SMS doesn't overload the network as much as phone calls, SMS is frequently used by TV shows to let viewers vote on a poll topic or for a contestant.
Most wireless plans charge for a certain number of text messages per month sent by the user. Some only charge for user-originated messages, while others charge for incoming messages as well. Speedy SMS message delivery is not guaranteed. During periods of high traffic, it might be minutes or even hours before a message reaches your friend.
Alternative messaging services allow for more elaborate types of messages. With EMS (Enhanced Messaging Service), you can send formatted text, sound effects, small pictures and icons. MMS (Multimedia Messaging Service) allows you to send animations, audio and video files in addition to text. If your mobile phone is EMS- or MMS-enabled, you can use these standards just as you would SMS. However, the cost per message will be higher.
Apps for Sending SMS to Groups
You may find one or more of the following apps effective for sending SMS to a group:
References