Are you ready to learn?
Why do homework? How can parents and guardians help their child with their school responsibilities?
Quizzes and Glossaries for Students and Teachers What time is it?
Today is Wednesday June 7, 2023 at 18:54. Today is a great day to be alive!

Seismology Education
From David Spencer's Education Paragon: Helping students develop citizenship, faith, literacy, responsibility and vision
David Spencer's Education Paragon is a free educational resource portal helping David Spencer's secondary school students, their parents and teaching colleagues with understanding, designing, applying and delivering assessment, curriculum, educational resources, evaluation and literacy skills accurately and effectively. This wiki features educational resources for Indigenous Aboriginal education, field trips for educators, law and justice education, music education and outdoor, environmental and experiential education. Since our web site launch on September 27, 2006, online site statistics and web rankings indicate there are currently 1,888 pages and 20,185,651 page views using 7.85 Gig of bandwidth per month. Pages are written, edited, published and hosted by Brampton, Ontario, Canada based educator David Spencer. On social media, you may find David as @DavidSpencerEdu on Twitter, as DavidSpencerdotca on Linkedin.com and DavidSpencer on Prezi. Please send your accolades, feedback and resource suggestions to David Spencer. Share on social media with the hashtag #EducationParagon. Thank you for visiting. You may contact David Spencer here.
The following resources are helpful to parents and teachers:

---
< Home

| Categories | Courses | Educators | Glossary | Images | Literacy | New | Parents | Popular | Search | Students
---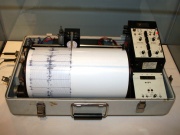 Seismology Education
" Seismology is the scientific study of earthquakes and the propagation of elastic waves through the Earth or through other planet-like bodies. The field also includes studies of earthquake effects, such as tsunamis as well as diverse seismic sources such as volcanic, tectonic, oceanic, atmospheric, and artificial processes (such as explosions)." Source: Wikipedia
What is a Seismograph?
"During an earthquake, vibrations caused by the breakage of rock along a fault zone radiate outward from the point of rupture. The instrument used to record and measure these vibrations is called a seismograph." Source: Earth Sciences Sector, Natural Resources Canada
Canadian National Seismograph Network
"The Geological Survey of Canada (GSC) operates a Canada-wide network of over 100 high-gain instruments, called seismographs, and over 60 low-gain or strong motion seismographs called accelerographs, that together make up the Canadian National Seismograph Network (CNSN). The high-gain instruments are used to record weak ground motion from earthquakes that are small and/or distant. Low-gain accelerographs are used to record the strong ground shaking from larger earthquakes at nearby sites likely to cause damage." Source: Earth Sciences Sector, Natural Resources Canada
Preparing for Earthquakes
Public Safety and Emergency Preparedness Canada provides these resources.
Early History of the Canadian Seismograph Network
"The earliest reference to the use of seismological instruments in Canada occurs in a paper by Dawson (1870). At the suggestion of the British Association for the Advancement of Science, the Government of Canada decided to get involved in earthquake monitoring with the establishment of seismograph stations in eastern and western Canada. Two Milne seismographs were purchased by the Dominion Government Meteorological Service. The first seismograph, installed at Toronto in September 1897, became the first instrument to record continuously in Canada. The second instrument, a Milne horizontal-type seismograph, began operations in Victoria, B.C. on January 1, 1899." Source: Earth Sciences Sector, Natural Resources Canada
Canadian National Seismograph Network Station Book
The Canadian National Seismograph Network Station Book contains information about the type of data produced by CNSN stations as well as associated information such as instrumentation, channels recorded, sample rates, sensitivities, and dates of operation necessary to make the data useful to the broadest range of people.
Boston College Educational Seismology Project
The Boston College Educational Seismology Project encourages students of all ages to learn about and deepen their understanding of science in general and seismology in particular.
POLARIS Consortium
POLARIS Consortium is a Canadian geophysical research consortium focused on investigation of structure and dynamics of the Earth's lithosphere and the prediction of earthquake ground motion.
The POLARIS project has received funding from Canada Foundation for Innovation (CFI) for installation of satellite-telemetry arrays of portable geophysical observatories in Canada. The CFI funds are matched by funds from Ontario Innovation Trust, Ontario Challenge Fund, Ontario Power Generation, British Columbia Knowledge Development Fund, BC Hydro, BHP Billiton, Manitoba government, Natural Resources Canada and other sources. Read more...