Are you ready to learn?
Why do homework? How can parents and guardians help their child with their school responsibilities?
Quizzes and Glossaries for Students and Teachers What time is it?
Today is Wednesday June 7, 2023 at 19:25. Today is a great day to be alive!

Remembrance Day
From David Spencer's Education Paragon: Helping students develop citizenship, faith, literacy, responsibility and vision
David Spencer's Education Paragon is a free educational resource portal helping David Spencer's secondary school students, their parents and teaching colleagues with understanding, designing, applying and delivering assessment, curriculum, educational resources, evaluation and literacy skills accurately and effectively. This wiki features educational resources for Indigenous Aboriginal education, field trips for educators, law and justice education, music education and outdoor, environmental and experiential education. Since our web site launch on September 27, 2006, online site statistics and web rankings indicate there are currently 1,888 pages and 20,185,651 page views using 7.85 Gig of bandwidth per month. Pages are written, edited, published and hosted by Brampton, Ontario, Canada based educator David Spencer. On social media, you may find David as @DavidSpencerEdu on Twitter, as DavidSpencerdotca on Linkedin.com and DavidSpencer on Prezi. Please send your accolades, feedback and resource suggestions to David Spencer. Share on social media with the hashtag #EducationParagon. Thank you for visiting. You may contact David Spencer here.
The following resources are helpful to parents and teachers:

---
< Home

| Categories | Courses | Educators | Glossary | Images | Literacy | New | Parents | Popular | Search | Students
---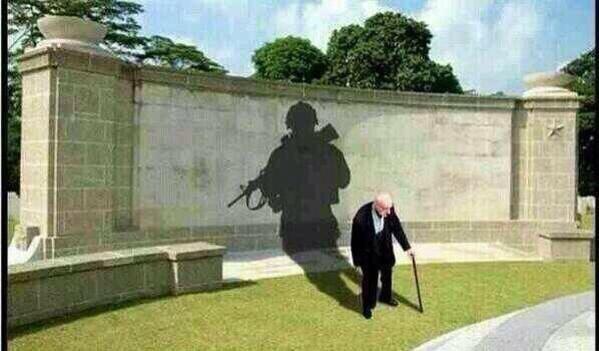 Photo source @HistoricalPics. Original artist unknown.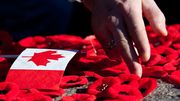 Remembrance Day
Remembrance Day commemorates Canadians who died in the First and Second World Wars, and the Korean War. It is held every November 11.
The first Remembrance Day was conducted in 1919 throughout the Commonwealth. Originally called Armistice Day, it commemorated the end of the First World War on Monday, November 11, 1918, at 11 a.m.: the eleventh hour of the eleventh day of the eleventh month.
From 1923 to 1931, Armistice Day was held on the Monday of the week in which November 11 fell. Thanksgiving was also celebrated on this day.
In 1931, MP Allan Neill introduced a bill to hold Armistice Day on a fixed day - November 11. During the bill's introduction, it was decided the word "Remembrance" would be used instead of "Armistice." The bill passed and Remembrance Day was first conducted on November 11, 1931. Thanksgiving Day was moved to October 12 that year.
The poppy is the symbol of Remembrance Day. Replica poppies are sold by the Royal Canadian Legion to raise money for Veterans.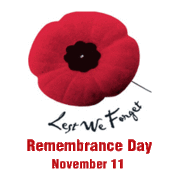 50 Ways To Remember
Attending Remembrance Day ceremonies on November 11 is the best-known way that we can publicly honour the men and women who served Canada in times of war, military conflict and peace. In addition, there are many other ways that we can show throughout the year that we care about the sacrifices and achievements of these one and a half million brave Canadians who served, and continue to serve, our country at home and abroad. A number of suggestions are offered from Veterans Affairs Canada.
Educational Resource Kits
Veterans Affairs Canada's Public Education Program has a mandate to help Canadian youth understand Canada's participation in the World Wars and conflicts of the 20th century. The Program brings a uniquely Canadian perspective to history and portrays what life was like for those on the frontline and on the homefront, while also recognizing and honouring the sacrifices and achievements that were made for the benefit of our country today.
Created in Canada, with the advice and assistance of Canadian educators, the products strive to encourage students to cultivate a sense of pride in their country through an understanding of this turbulent and challenging period in Canada's history. View the kist here
History of Remembrance Day
Lest We Forget: Remembrance Day (CBC Digital Archives) We wear poppies on our coats every November. We observe a moment of silence at 11 a.m. each November 11. But why do we do it? What is Remembrance Day all about? CBC Digital Archives looks at the significance and the symbols of Remembrance Day.
The Home Front
Rosies of the North A National Film Board of Canada (NFB) production. They raised children, baked cakes... and built world-class fighter planes. Sixty years ago, thousands of women from Thunder Bay and the Prairies donned trousers, packed lunch pails and took up rivet guns to participate in the greatest industrial war effort in Canadian history. Like many other factories across the country from 1939 to 1945, the shop floor at Fort William's Canadian Car and Foundry was transformed from an all-male workforce to one with forty percent female workers.
Military Fellowships and Organizations
The Military Christian Fellowship (MCF) of Canada is an inter-denominational body of military men and women committed to Jesus Christ. Their mission is to take the Good News of Jesus Christ to the military community in Canada and abroad. All serving and retired members of the Canadian Forces and their families who subscribe to MCF basis of belief are eligible for membership in the Military Christian Fellowship. Associate memberships may be granted to civilians who work for the Department of National Defence or those who have another connection or interest in the military ministry.
http://www.mcf-canada.ca
Contributions of Cultural and Ethnic Groups to Protecting Peace
"Black Canadians in Uniform" from Veterans Affairs Canada. Suggested by Rainford Cornish.
"Aboriginal Veterans" from Veterans Affairs Canada. Suggested by Rainford Cornish.
Video Tributes and Peace Songs
Remembrance Day Ceremony Videos
Videos and Documentaries About Veterans and War
Remembrance Actor Paul Gross talks about his film Passchendaele. Interview filmed for the NFB.
Bravery in the Field NFB film. This dramatic film introduces us to Tommy, a World War II veteran who rooms alone, waiting for his pension cheque to arrive, passing the time in the evenings with his cronies in the Legion Hall. Lennie can claim only a third of Tommy's years, but he prowls the same area of town, and the two have more in common than either of them realizes. Both their lives lack a sense of place and purpose. The story occurs early in November and leads up to an event that provides one of Tommy's few remaining moments of glory, the annual veterans' Remembrance Day parade.
Fields of Sacrifice NFB film. This 1964 documentary returns to the battlefields where over 100,000 Canadian soldiers lost their lives in the First and Second World Wars. The film also visits cemeteries where servicemen are buried. Filmed from Hong Kong to Sicily, this documentary is designed to show Canadians places they have reason to know but may not be able to visit. Produced for the Canadian Department of Veteran Affairs by the renowned documentary filmmaker Donald Brittain.
Audio Recordings
"In Flanders Fields" and "Last Post" narrated by David Spencer's students. Audio MP3 recording.
Remembrance Day Power Point Presentations
The following Remembrance Day Power Point Presentations were created by educators.
Remembrance Day Power Point Presentation produced by Stuart Shaw for OHASSTA (Ontario History and Social Science Teachers' Association)
Remembrance Day Web Resources
Soldiers and Their Families
video: "Children of Soldiers" In this National Film Board of Canada (NFB)documentary shot at Canadian Forces Base Petawawa during a troop deployment to Afghanistan, children and teens talk about the particular circumstances of having soldiers as parents. Directed by Claire Corriveau, Children of Soldiers lifts the veil on a reality shared by thousands of young Canadians, and on the difficulty of finding a balance between loyalty to the troops and staying true to themselves.
References