Are you ready to learn?
Why do homework? How can parents and guardians help their child with their school responsibilities?
Quizzes and Glossaries for Students and Teachers What time is it?
Today is Thursday June 1, 2023 at 01:52. Today is a great day to be alive!

Nikola Tesla
From David Spencer's Education Paragon: Helping students develop citizenship, faith, literacy, responsibility and vision
David Spencer's Education Paragon is a free educational resource portal helping David Spencer's secondary school students, their parents and teaching colleagues with understanding, designing, applying and delivering assessment, curriculum, educational resources, evaluation and literacy skills accurately and effectively. This wiki features educational resources for Indigenous Aboriginal education, field trips for educators, law and justice education, music education and outdoor, environmental and experiential education. Since our web site launch on September 27, 2006, online site statistics and web rankings indicate there are currently 1,888 pages and 20,185,651 page views using 7.85 Gig of bandwidth per month. Pages are written, edited, published and hosted by Brampton, Ontario, Canada based educator David Spencer. On social media, you may find David as @DavidSpencerEdu on Twitter, as DavidSpencerdotca on Linkedin.com and DavidSpencer on Prezi. Please send your accolades, feedback and resource suggestions to David Spencer. Share on social media with the hashtag #EducationParagon. Thank you for visiting. You may contact David Spencer here.
The following resources are helpful to parents and teachers:

---
< Home

| Categories | Courses | Educators | Glossary | Images | Literacy | New | Parents | Popular | Search | Students
---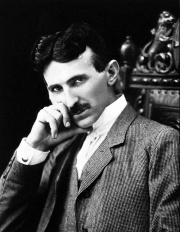 Nikola Tesla
Nikola Tesla (Serbian:10 July 1856 – 7 January 1943) was an inventor, mechanical engineer, and electrical engineer. He was an important contributor to the birth of commercial electricity, and is best known for his many revolutionary developments in the field of electromagnetism in the late 19th and early 20th centuries. Tesla's patents and theoretical work formed the basis of modern alternating current (AC) electric power systems, including the polyphase system of electrical distribution and the AC motor. Source: wikipedia.org
There is a monument to Nikola Tesla, featuring him standing on a portion of an alternator, established at Queen Victoria Park (map) in Niagara Falls, Ontario, Canada. The monument was officially unveiled on 9 July 2006 on the 150th anniversary of Tesla's birth.
Videos About Nikola Tesla
Television Documentaries About Nikola Tesla
Nikola Tesla: Master of Lightning produced by New Voyage Communications and aired on PBS in 2003. New Voyage Communications in Washington, D.C., developed a unique, in-depth television documentary about the life, times, and legacy of Nikola Tesla, American inventor and visionary. This program is the result of years of research, in which many new and unknown details of of Tesla's life have been uncovered. The production contains a large and extremely rare collection of photographs documenting Tesla's life and his inventions.
"Nikola Tesla (1856-1943) is probably the first cross-over scientist. He is known and respected in scientific and engineering circles, but he also appeals to a youthful and general audience with no formal background in science. Today there is considerable and growing interest in Tesla, but there is lacking a comprehensive and accurate picture of his life and accomplishments. A major documentary has never been made about him. Much of the available information has been highly speculative, not based on the historical documentary evidence. It was our objective to make an in-depth documentary that is both entertaining and scientifically and historically accurate. A great deal of the story is told in Tesla's own words, drawing from his autobiographical and scientific writings.
In particular, the documentary sets the record straight on Tesla's inventions and accomplishments. Tesla was a contemporary of Thomas Edison and Guglielmo Marconi, and these two men are frequently credited for Tesla's invention of AC power transmission and radio. Our program demonstrates that this is not the case."
Films About Nikola Tesla
References