Are you ready to learn?
Why do homework? How can parents and guardians help their child with their school responsibilities?
Quizzes and Glossaries for Students and Teachers What time is it?
Today is Saturday June 3, 2023 at 10:27. Today is a great day to be alive!

Mississaugas of the New Credit
From David Spencer's Education Paragon: Helping students develop citizenship, faith, literacy, responsibility and vision
David Spencer's Education Paragon is a free educational resource portal helping David Spencer's secondary school students, their parents and teaching colleagues with understanding, designing, applying and delivering assessment, curriculum, educational resources, evaluation and literacy skills accurately and effectively. This wiki features educational resources for Indigenous Aboriginal education, field trips for educators, law and justice education, music education and outdoor, environmental and experiential education. Since our web site launch on September 27, 2006, online site statistics and web rankings indicate there are currently 1,888 pages and 20,185,651 page views using 7.85 Gig of bandwidth per month. Pages are written, edited, published and hosted by Brampton, Ontario, Canada based educator David Spencer. On social media, you may find David as @DavidSpencerEdu on Twitter, as DavidSpencerdotca on Linkedin.com and DavidSpencer on Prezi. Please send your accolades, feedback and resource suggestions to David Spencer. Share on social media with the hashtag #EducationParagon. Thank you for visiting. You may contact David Spencer here.
The following resources are helpful to parents and teachers:

---
< Home

| Categories | Courses | Educators | Glossary | Images | Literacy | New | Parents | Popular | Search | Students
---
Mississaugas of the New Credit
The Mississaugas of the New Credit First Nation look to our Anishinabe roots to guide our vision for the future as a strong, caring, connected community who respects the earth's gifts and protects the environment for future generations. Our identity includes our history, language, culture, beliefs and traditions which we strive to incorporate into the programs and services offered to our community.
Mississaugas of the New Credit
2789 Mississauga Road
RR 6
Hagersville, Ontario N0A 1H0
Phone: (905) 768-1133
http://www.newcreditfirstnation.com/
Artifacts Found from the Credit Mission Village
Artifacts found at a Mississauga golf course may indicate European settlers moved into a village along the Credit River vacated by native Indians in the mid-19th century. But archaeologist Shaun Austin says he can't rule out that nails and shards of ceramic teaware aren't from the Credit Mission village occupied by the Mississaugas of the New Credit until about 1845. "They're not museum quality, but they're important for what they are," he said. Austin was called in to examine the site after the Mississaugua Golf & Country Club began regrading its driving range last fall. When officials with the Mississaugas of the New Credit First Nation learned of the work, they asked the City to halt the project.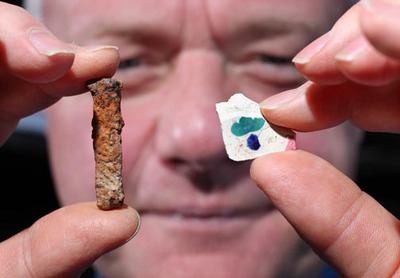 Senior archaeologist Shaun Austin displays a hand-forged nail and a decorated ceramic shard, likely British-made teaware from the 19th century. The artifacts were among 37 found by Austin and his team at the Mississauga Golf and Country Club, site of a native Indian village. Toronto Star photo

The City agreed and ordered an archaeological assessment as a condition of granting the club a permit to build a new shed near the site, located near the golf course's entrance gates off Mississauga Rd., just north of the Queen Elizabeth Way. Austin determined that the historical village, long buried underground, was not disturbed by the grading. His team found the artifacts while checking areas outside the known village site. The 37 items unearthed included hand-forged and machine-cut nails and pieces of decorated ceramic tableware. Some are smaller than a dime. Archaeologists also found bits of desiccated wood, likely from a log building. There are no plans to dig up the site to find more historical items, Austin said. The Mississaugas — from the Indian word "Missisakis," meaning many river mouths — once owned much of what is now southern Ontario. They sold off parcel after parcel of land, eventually settling along the Credit River in 1826.
Methodist missionaries Peter Jones and Egerton Ryerson ministered to the Indians, who built a combined chapel and schoolhouse. The village grew to about 50 houses by 1837. European settlers later moved in and built dams along the Credit, which killed the local fishery and left the Mississaugas with little to eat. The band finally settled in Hagersville in 1845. First nation Chief Bryan LaForme said he was upset by the work over the old village site. "It's our ancestral home," he said. "Maybe they think that because we're First Nations people it won't have an effect on us because it's so long ago. But it doesn't matter how long it's been, we've never given up our rights to our traditional lands. "We take our history very seriously."
LaForme wasn't consulted at the time because the 105-year-old club was simply rebuilding its existing range, said Ian Scott, general manager of the golf course. "We thought it was a fairly straightforward project," he said. "We weren't doing anything untoward or trying to be dishonest." Although there have been many projects in the past without issues or complaints, Scott said he'll keep the First Nation advised of future work.
"As we go forward we will have to be very mindful of it," he said. "We've been good citizens in this city for a long, long time and we want to keep it that way."
Mississauga's heritage committee recommended last week that work at the club be allowed to resume once the Ministry of Tourism and Culture approves the archaeological assessment, likely later this month.

Source: Mississauga News March 3, 2011 http://www.mississauga.com/news/article/961485--golf-course-digs-history