Are you ready to learn?
Why do homework? How can parents and guardians help their child with their school responsibilities?
Quizzes and Glossaries for Students and Teachers What time is it?
Today is Tuesday May 30, 2023 at 05:09. Today is a great day to be alive!

MOOC
From David Spencer's Education Paragon: Helping students develop citizenship, faith, literacy, responsibility and vision
David Spencer's Education Paragon is a free educational resource portal helping David Spencer's secondary school students, their parents and teaching colleagues with understanding, designing, applying and delivering assessment, curriculum, educational resources, evaluation and literacy skills accurately and effectively. This wiki features educational resources for Indigenous Aboriginal education, field trips for educators, law and justice education, music education and outdoor, environmental and experiential education. Since our web site launch on September 27, 2006, online site statistics and web rankings indicate there are currently 1,888 pages and 20,185,651 page views using 7.85 Gig of bandwidth per month. Pages are written, edited, published and hosted by Brampton, Ontario, Canada based educator David Spencer. On social media, you may find David as @DavidSpencerEdu on Twitter, as DavidSpencerdotca on Linkedin.com and DavidSpencer on Prezi. Please send your accolades, feedback and resource suggestions to David Spencer. Share on social media with the hashtag #EducationParagon. Thank you for visiting. You may contact David Spencer here.
The following resources are helpful to parents and teachers:

---
< Home

| Categories | Courses | Educators | Glossary | Images | Literacy | New | Parents | Popular | Search | Students
---
MOOC
MOOC is a massive open online course () is a type of online course aimed at large-scale participation and open access via the web. MOOCs are a recent development in the area of distance education, and a progression of the kind of open education ideals suggested by open educational resources." (Wikipedia contributors, 2013)
Though the design of and participation in a MOOC may be similar to college or university courses, MOOCs typically do not offer credits awarded to paying students at schools. However, assessment of learning may be done for certification.

The New York Times named 2012 the Year of the MOOC. "Traditional online courses charge tuition, carry credit and limit enrollment to a few dozen to ensure interaction with instructors. The MOOC, on the other hand, is usually free, credit-less and, well, massive." "Because anyone with an Internet connection can enroll, faculty can't possibly respond to students individually." "MOOC presentations are short, 8 to 12 minutes is typical. Then — this is key — videos pause perhaps twice for a quiz to make sure you understand the material or, in computer programming, to let you write code. Feedback is electronic. Teaching assistants may monitor discussion boards. There may be homework and a final exam." (Pappano, 2012)
"The shimmery hope is that free courses can bring the best education in the world to the most remote corners of the planet, help people in their careers, and expand intellectual and personal networks." (Pappano, 2012)
"Ray Schroeder, director of the Center for Online Learning, Research and Service at the University of Illinois, Springfield, says three things matter most in online learning: quality of material covered, engagement of the teacher and interaction among students." ""What's frustrating in a MOOC is the instructor is not as available because there are tens of thousands of others in the class," Dr. Schroeder says. How do you make the massive feel intimate?" (Pappano, 2012)
"Dr. Agarwal predicts that "a year from now, campuses will give credit for people with edX certificates." He expects students will one day arrive on campus with MOOC credits the way they do now with Advanced Placement." (Pappano, 2012)
"Cheating in the MOOC system is a reality. "We found groups of 20 people in a course submitting identical homework," says David Patterson, a professor at the University of California, Berkeley, who teaches software engineering, in a tone of disbelief at such blatant copying; Udacity and edX now offer proctored exams." (Pappano, 2012)
"The University of Toronto is the first Canadian school to tap into the exploding interest in open online courses, signing on with a startup led by heavyweight U.S. schools such as Stanford and Princeton." (Bradshaw, 2012)
"The U of T will be the lone Canadian university among 11 international schools announced on Tuesday as new partners in Coursera, a major U.S.-based venture offering "massive open online courses" (MOOCs), a rapidly expanding trend whereby top schools offer free online instruction to anyone who signs up." (Bradshaw, 2012)
"Canadian schools are starting to see MOOCs as a way to "dramatically increase the visibility of their brand," and to reach the growing middle class in emerging countries such as India and Brazil, said Maxim Jean-Louis, president of distance education network Contact North. " (Bradshaw, 2012)
Success Rates of MOOC
Others like the discipline a group offers. Kimberly Spillman, a software engineer, started taking seven MOOCs and completed three. "The ones I have study groups with people, those are the ones I finish,"
"People can only believe that MOOCs can replace existing higher-education classes if they misunderstand what a teacher does." says Mark Guzdial, a professor in the School of Interactive Computing at Georgia Institute of Technology.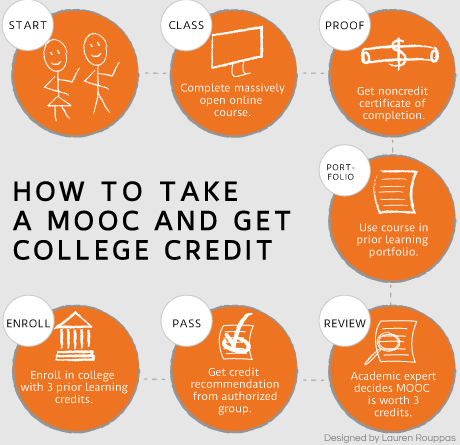 "Massively open online courses, or MOOCs, are not credit-bearing. But a pathway to college credit for the courses already exists -- one that experts say many students may soon take." (Fain, 2012)
"Andrew Ng, Coursera's co-founder and an engineering professor at Stanford University, said the prior-learning pathway to credits for MOOCs is "fantastic" and a "big value add for students." (Fain, 2012)
MOOC Providers
Resources About MOOC