Are you ready to learn?
Why do homework? How can parents and guardians help their child with their school responsibilities?
Quizzes and Glossaries for Students and Teachers What time is it?
Today is Wednesday June 7, 2023 at 19:36. Today is a great day to be alive!

Kim Phuc
From David Spencer's Education Paragon: Helping students develop citizenship, faith, literacy, responsibility and vision
David Spencer's Education Paragon is a free educational resource portal helping David Spencer's secondary school students, their parents and teaching colleagues with understanding, designing, applying and delivering assessment, curriculum, educational resources, evaluation and literacy skills accurately and effectively. This wiki features educational resources for Indigenous Aboriginal education, field trips for educators, law and justice education, music education and outdoor, environmental and experiential education. Since our web site launch on September 27, 2006, online site statistics and web rankings indicate there are currently 1,888 pages and 20,185,651 page views using 7.85 Gig of bandwidth per month. Pages are written, edited, published and hosted by Brampton, Ontario, Canada based educator David Spencer. On social media, you may find David as @DavidSpencerEdu on Twitter, as DavidSpencerdotca on Linkedin.com and DavidSpencer on Prezi. Please send your accolades, feedback and resource suggestions to David Spencer. Share on social media with the hashtag #EducationParagon. Thank you for visiting. You may contact David Spencer here.
The following resources are helpful to parents and teachers:

---
< Home

| Categories | Courses | Educators | Glossary | Images | Literacy | New | Parents | Popular | Search | Students
---
Original Content Alert
Significance of Kim Phuc
The image of Kim Phuc running, which was often used to depict the horror of the Vietnam War, changed Kim's life and also formed a bond between her and photographer Nick Ut. He revisited Vietnam during the 25th anniversary of the war's end and this time took pictures of a peaceful country.
In 1992, Kim Phuc came to Canada. In 1997 she took the Canadian citizenship test earning a perfect score. When Canadians found out that the little girl from the 1972 photo was now a Canadian citizen, they raised $30 000 to help her settle in Canada (Quinlan,1999:95). She has been declared a Goodwill Ambassador to UNESCO. In 1997, she established the Kim Foundation, a not-for-profit organization to help children who are the victims of war. Kim Phuc often speaks to groups of journalists. "Sometimes I like to think of that little girl, screaming, running up the road, as being not just a symbol of war, but a symbol of a cry for peace."
Who is Kim Phuc?
Kim Phuc's life was forever changed by one horrifying moment during the Vietnam War. Phan Thi Kim Phuc was born in 1963 and lived in a small village called Trang Bang located 25 miles west of the capital city Saigon in Vietnam.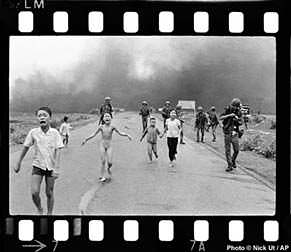 Photo by Nick Ut /AP Photo
On June 8, 1972, her village was being held by North Vietnamese forces. The Viet Cong had run a blockade across the highway that links Trang Bang to Saigon. The Viet Nam Air Force (VNAF) dropped Napalm bombs (ignited jellied gasoline developed by British allies in WWII, to knock out enemy troops in trenches and fortifications) outside the village hitting the fortifications of the North Vietnamese Army (NVA). (Timberlake, 1997:1)

The pilot saw people with weapons running toward the Army of the Republic of Viet Nam (ARVN) positions, where the journalists and photographers were also located. In a split-second decision to protect the ARVN troops from what he saw as a threat, the Vietnamese pilot diverted from his target and dove to attack the group.
His Napalm bombs hit the village. Two of Kim Phuc 's six (6) brothers (aged 9 months, and 3 years) and two cousins were killed. In the photo, the child on Kim's right and ahead of her is one of her brothers. Nine year old Kim was horribly burned. Her clothes melted from her body as she ran down the road in pain.
This Pulitzer Prize-winning image of terrified children, is etched in Associated Press (AP) photographer Nick Ut's memory. He carried Kim to the AP van and helped her family take her to the hospital. "This little girl came running out of the black smoke toward me, naked and screaming"
In Nick Ut 's own words "She was crying out, "Non´g Qu´a! Non´g Qu´a! (Too hot! Too hot!)." Instinctively, I stepped back and clicked my camera. People were everywhere, fleeing from the fire and smoke that engulfed the area. I saw a woman carrying a baby, screaming, "Help! Help!" Another was running with a dead child in her arms. It was then that Kim and four other children came running toward me. With the help of some South Vietnamese soldiers, I poured water on the girl's badly burned body and carried her to the Associated Press van. She was crying in pain all the way to the Cu Chi hospital. " (IPI Report,2000:1)
Kim was transferred to the elite Barsky burn clinic in Saigon, where, for months, she hovered between life and death. (Bayin,1999:1) That was the beginning of the ordeal to save Kim Phuc. It would take seventeen (17) operations, the intervention of another photographer, Perry Kretz of Stern magazine, and numerous trips abroad for plastic surgery, before she could assume a "normal" life. Her parents, once relatively prosperous South Vietnamese peasants, were reduced to dire poverty when the state took over her mother's noodle shop.
Later in life, Kim began studying medicine. Despite being accepted into medical school in Saigon, in 1984 authorities put a stop to her studies. They insisted that she needed to speak to journalists entering the area about her experiences as a child thrust in the midst of the war. Her every move was monitored by the Vietnamese Communist government. As Phuc tried to end the emotional toll resulting from being a piece of propaganda, and searched for meaning to her life, her prayers were answered. A family member took her to his church. In 1982, 10 years after the war, she accepted Jesus Christ into her life, and was able to overcome her physical and emotional obstacles. (Hosfeld,2003:2)
After an appeal to the head of the Vietnamese government in 1986 she was allowed to go to Cuba to continue her education. While there, she married Bui Huy Toan, a North Vietnamese student also studying in Cuba. The newlyweds headed for a honeymoon in Moscow. On the October 1992 return flight to Cuba, she sneaked off the plane while refuelling in Gander, Newfoundland. She defected to Canada and sought Canadian citizenship. (Canu, 2003:4)

During a December 2003 presentation at a church in the United States, Kim Phuc said "Pain never disappears. You just learn how to deal with it." She referred to Psalms 56, a Bible verse she found that helps her with the tough times, and which ends with the following words: "... For you have delivered me from death, and my feet from stumbling, that I may walk before God in the light of life." (Hosfeld,2003:2)
She has also demonstrated the power to forgive. A video showed Phuc meeting, and publicly forgiving, a pilot who dropped bombs on the bunkers around her village -- a village, the pilot was told, that was supposedly vacated when the bombs were dropped. Then he saw the next day's paper. "It's like an entire world being lifted off of my shoulders," the pilot said on screen as he and Phuc embraced emotionally.
Though she did not go back to finish her medical studies, Phuc said she has found her purpose in life, "to share the importance of having a relationship with Christ as well as knowing the importance of freedom. "
"It was the fire of bombs that burned my body. It was the skill of doctors that mended my skin. But it took the power of God's love to heal my heart." (Chong,2001)
"Time is so short, we must tell people about Jesus Christ. We must share the Gospel with others" she said. (Hosfeld,2003:2)
Video of Kim Phuc
You may view a video about Kim Phuc here. (Courtesy of Speaker's Spotlight)
Bibliography
Bayin, Anne. CBC News Online, Toronto, 1999 <http://www.cbc.ca/news/indepth/kimphuc>
Canu, John F. History "4" "2" Day, September 2, 2003 <http://www.safran-arts.com/42day/history/h4jun/h4jun08.html>
CBSNews.com "Whatever Happened To Her? Says She Has Learned How To Forgive" 2000 <http://www.cbsnews.com/stories/2000/09/19/world/main234703.shtml>.
Chong, Denise. The Girl in the Picture: The Kim Phuc Story, Penguin Books Canada Ltd., Toronto,July 2001 (ISBN:0-670-86817-5)
Wierenga, Emily. "Kim Phuc – A Picture of Peace". Christianity.ca 29 January 2011. <http://www.christianity.ca/netcommunity/page.aspx?pid=4998>.
Fass, Horst and Marianne Fulton, The Bigger Picture <http://www.digitaljournalist.org/issue0008/ng2.htm>.
Hosfeld, Liz A. "'The Girl in the Picture' speaks about Vietnam experiences, faith in God", Mansfield News Journal, December 1, 2003 <http://www.mansfieldnewsjournal.com/news/stories/20031201/localnews/743228.html>.
IPI Report, No.4, 2000 :IPI Global Journalist. International Press Institute at the Missouri School of Journalism, 2000 <http://www.freemedia.at/IPIReport4.00/ipirep4.00_5.htm>.
Kim Foundation, 2003 <http://www.kimfoundation.com/en>.
Kim's Story: The Road to Vietnam,video <http://www.filmstransit.com/kim.html>.
Life Stories, WomenTodayMagazine.com, 2002 <http://www.womentodaymagazine.com/features/kim_phuc.html>.
Phuc, Kim. Address at The United States Vietnam War Memorial Veterans' Day 1996 <http://gos.sbc.edu/p/phuc.html>
Photo of Nick Ut <http://www.watermargin.com/vietmain/portraits/ut.html>
Quinlan, Don and Pickup and Lahey. Government Participating in Canada. Oxford University Press,Toronto 1999 <http://www.oupcan.com>
Speaker's Spotlight Description <http://www.speakers.ca/phuc_kim.aspx>.
Timberlake, Ronald N. "Kim Phuc: The Myth Of The Girl In The Photo", 1997 <http://www.danford.net/vphoto.htm>.
Books About Kim Phuc
The Girl in the Picture: The Kim Phuc Story
by Denise Chong
Penguin Books Canada Ltd.,
Toronto,July 2001 (ISBN 0-670-86817-5)