Are you ready to learn?
Why do homework? How can parents and guardians help their child with their school responsibilities?
Quizzes and Glossaries for Students and Teachers What time is it?
Today is Saturday June 3, 2023 at 14:54. Today is a great day to be alive!

Ice Storm 2013
From David Spencer's Education Paragon: Helping students develop citizenship, faith, literacy, responsibility and vision
David Spencer's Education Paragon is a free educational resource portal helping David Spencer's secondary school students, their parents and teaching colleagues with understanding, designing, applying and delivering assessment, curriculum, educational resources, evaluation and literacy skills accurately and effectively. This wiki features educational resources for Indigenous Aboriginal education, field trips for educators, law and justice education, music education and outdoor, environmental and experiential education. Since our web site launch on September 27, 2006, online site statistics and web rankings indicate there are currently 1,888 pages and 20,185,651 page views using 7.85 Gig of bandwidth per month. Pages are written, edited, published and hosted by Brampton, Ontario, Canada based educator David Spencer. On social media, you may find David as @DavidSpencerEdu on Twitter, as DavidSpencerdotca on Linkedin.com and DavidSpencer on Prezi. Please send your accolades, feedback and resource suggestions to David Spencer. Share on social media with the hashtag #EducationParagon. Thank you for visiting. You may contact David Spencer here.
The following resources are helpful to parents and teachers:

---
< Home

| Categories | Courses | Educators | Glossary | Images | Literacy | New | Parents | Popular | Search | Students
---
Ice Storm 2013
The Ice Storm of 2013 began on Saturday December 21, 2013 in southern Ontario and moved eastward into south eastern Quebec all the way to Nova Scotia.
How to Cope During Severe Weather and Power Outages
To Do Checklist Before You Leave Your Home During a Power Outage
When You Must Leave Your House Due to a Prolonged Winter Power Outage (PDF) from Canada Mortgage and Housing Corporation (CMHC) Canada's national housing agency. Established as a government-owned corporation in 1946 to address Canada's post-war housing shortage, the agency has grown into a major national institution. CMHC is Canada's premier provider of mortgage loan insurance, mortgage-backed securities, housing policy and programs, and housing research.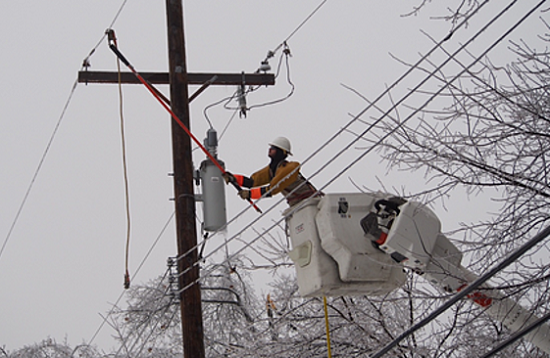 How to Prevent Future Power Outages
You can help us prevent some outages by keeping an eye open for abnormal conditions, such as fraying wires or leaning electric poles. If something looks unusual, alert us to it by calling our province-wide emergency number at 1-800-434-1235 (24 hours a day, 365 days a year). If you plan to dig near your home, please call us before you dig at 1-888-664-9376 so we can mark your lines. This will help us avoid unnecessary power outages while ensuring your safety. By catching these problems early, we can fix any potential situation before it becomes something much worse.
HydroOne will will trim and/or remove trees and vegetation that interfere with Hydro One power lines.
What can I do to help you find and fix outages faster? Have your account number (found on your electricity bill) ready when you call Know the phone number of the home or business where power has been lost. Tell us the potential cause of the outage, if possible, such as a tree hitting the line in front of your house or if you see a wire down somewhere.
How to Prepare for Future Power Outages
Home owners and business owners may wish to invest in a device that allows you to connect your outside generator directly to your electric utility meter. This device is called GenerLink.
GenerLink™
Homeowners are purchasing portable generators in record numbers to power critical appliances such as furnaces, pumps, refrigerators and home office equipment during a power outage. GenerLink™ is a new product that makes connecting a portable generator easy and safe while providing homeowners the flexibility of using a portable generator to operate virtually any appliance in their home.
GenerLink™ is a five-inch device that is installed behind your electric meter by your local utility or licensed electrical contractor. When you connect a portable generator to GenerLink™ and start it up, GenerLink™ automatically disconnects your house from the electric utility grid preventing the possibility of back feed, which can damage equipment and harm utility personnel.
Because GenerLink™ is designed and rated to connect directly to a standard household electric service of 200 amps or less, all you have to do to operate a critical appliance is flip a breaker on in the household breaker panel once the generator is connected and operating. GenerLink™ eliminates the hassles of running multiple extension cords or hiring an electrician to install an expensive transfer switch and sub-panel that limits the number of appliances you can operate.
GenerLink™ is installed by your local electric utility in less than 30 minutes. There is no need for you to be home and there is no need to rewire the house.
With GenerLink™ the homeowner can operate virtually any electric load in their home as long as it does not exceed 30-amps continuous and as long as there is sufficient generator capacity. (Note: Central A/C units and electric heat pumps can not be powered by a portable generator.) For example, if a homeowner has a generator with 6000 watts of capacity, they can run their hot water heater (typically 4800 watts) during an extended power outage by simply turning off other household breakers until water in the tank heats up. Once the water is heated, the homeowner can shut off the hot water heater breaker and switch on other household circuit breakers. This kind of flexibility simply does not exist with extension cords and transfer switches. With GenerLink™ and a generator with a continuous rating of 4400 to 7200 watts, a homeowner can run virtually any appliance in their house - just not all at the same time.

Back Feed
Back feed is a very dangerous condition in which electricity from a generator flows back into the utility's electric distribution system. Back feed can damage equipment or injure utility line workers. Back feed occurs if your home is not properly disconnected from the utility grid before using a generator. GenerLink™ was designed by utility engineers and ensures that power from a portable generator can not feed back into the utility's electric distribution system, by automatically disconnecting from the grid when it detects a generator is operating.

You should not be tempted to cut corners when connecting a portable generator. All too often, friends, relatives or even uninformed electricians may recommend inappropriate and unsafe connection options that are not approved by the National Electric Code. GenerLink™ has undergone extensive safety and reliability testing and is recognized by utilities across the country as a safe and appropriate method for preventing back feed from a portable generator.
200 Amps Limit
The majority of homes in the Canada and U.S.A. are provided with electric service from their local utility at 200 amps or less. GenerLink™ can be installed in a very high percentage of these homes.
Some new and large homes are provided with electric service that exceeds 200 amps. GenerLink™ can not be installed in these homes. Homeowners should contact their electric utility if they are unable to determine whether or not their electric service exceeds 200 amps.
Circa Enterprises/Hydel Products
Sales and Marketing
phone: 905-669-5511 ext 116
e-mail: sales@circahydel.com

Available in Ontario from
HYDEL ENTER. VAUGHAN, ON 905-669-5511

HUDCO BARRIE, ON 705-719-7555

SOMMERS MOTOR TAVISTOCK, ON 519-655-2396

TORBRAM WOODSTOCK, ON 519-421-4513
Generators: What to Consider Before Buying
The following information is from the GenerLink™ web site.
You can not run your entire home with a portable generator. A typical home supplied with 200-amp electric service can support approximately 45,000 watts (45kW) of electric demand.
By way of comparison, portable generators are marketed in sizes ranging from a few hundred watts to 15,000 watts (15kW). Generators smaller then 4,000 watts are, in most instances, ill-suited for powering a home during a power outage as they can not start motors on devices like well pumps and the air handler on a central heating system. At the other end of the spectrum, 10,000 to 15,000 watt portable generators, are more expensive, difficult to move, noisy, and consume large quantities of fuel. In most instances, you can not run you home's central air conditioning system or electric heat pump even with a 15,000 watt portable generator.
GenerLink™ is designed for use with portable generators that are temporarily connected to a home and provide a maximum continuous power output of 7200 watts 30 amps. GenerLink™ will not work and can not be installed in homes with an electric service that are rated at more than 200 amps.
During a power outage, GenerLink™ allows you to select the combination of loads you want to operate by simply switching breakers in the household circuit panel. This flexibility makes generator sizing relatively straightforward. Purchase a generator that is powerful enough to run the largest appliances and motors you need during a power outage. You may run other loads in your house by simply turning off the breaker to large usage loads. If your using a hot water heater, for example, turn off this breaker once the water has been heated, and turn on breakers to other loads you want to operate.
To determine what loads you can support with a portable generator, you must look at both the "running watt" and the "starting watt" requirements of the appliances you want to operate. For example, when your furnace motor first starts up, it will require approximately three times more starting watts for a brief 1 to 2 second period than the running watts needs to operate it for extended periods. To assist you in determining what loads you can operate on your portable generator, appliance usage tables have been provided with information on running watts and starting watts for common household appliances. In most instances, you will want to purchase a generator with a continuous rating of 4400 watts to 7200 watts.
There are a wide variety of portable generators that can currently be purchased. Some are more suitable than others for connecting to your house. Generally speaking, many of the lower priced generators are not suitable for connecting to your home. These engine generators do not have sufficient engine durability to power your house during an extended power outage and many have poor power quality output that can damage expensive electronics such as home office equipment, and furnace controls .
To use GenerLink™, you must have a generator that has a four-wire 120/240-Volt outlet with a maximum rating of up to 50 amps and a standard L1420 or L1430 locking or L1450P straight receptacle. These receptacles are most commonly found on portable generators.
When selecting a generator to connect to your house, ensure the generator you select:

will not damage sensitive electronic appliances provides the capability to start a well pump or other large motor loads has the necessary four wire 20-amp, 30-amp or 50-amp receptacle required to connect to GenerLink™ As a guide, look for the following characteristics when selecting a generator to connect to GenerLink™: overhead valves, not side-mounted valves continuous rating between 4400 and 7200 watts a peak rating sufficient to start the largest motor you will be running an automatic voltage regulator with voltage regulation of 5% or less low oil shut down 120/240-volt output strongly consider engine generators that have the capability of using natural gas or propane if these fuel options are available at your house
The following is a list of generators from various manufacturers. The GenerLink transfer switch requires a generator that outputs 120/240 Volts and has either the 14-50, L14-30, L14-20, or 4-wire receptacle. The GenerLink is shipped with a 20 foot cord. Longer cords are available upon request.
NOTE: Generators with Full Panel GFCI Protection (Ground Fault Circuit Interrupter) comply with OSHA inspections on job sites. However, these generators will not function when connected to a GenerLink since the home or building main breaker box also has a neutral bonded to ground. When both the generator and the home / building breaker box contains a neutral bonded to ground, the generator's GFCI will open and no outlets will function
Honda EB Series generator is not compatible with the GenerLink Automatic Transfer Switch. Please contact the nearest Honda dealer for information on modification to the receptacle panel.
NOTE: Per the National Electric Code, all generators must have a "floating neutral " when used with the GenerLink Automatic Transfer Switch. Please refer to the generator operation manual for bonded neutral specifications.
List of Compatible Generators PDF
How to Read Your Hydro Meter
Read your own electric power meter
History Making Ice Storms
List of Ice Storms from Wikipedia.