Are you ready to learn?
Why do homework? How can parents and guardians help their child with their school responsibilities?
Quizzes and Glossaries for Students and Teachers What time is it?
Today is Saturday June 3, 2023 at 14:44. Today is a great day to be alive!

Heintzman Piano
From David Spencer's Education Paragon: Helping students develop citizenship, faith, literacy, responsibility and vision
David Spencer's Education Paragon is a free educational resource portal helping David Spencer's secondary school students, their parents and teaching colleagues with understanding, designing, applying and delivering assessment, curriculum, educational resources, evaluation and literacy skills accurately and effectively. This wiki features educational resources for Indigenous Aboriginal education, field trips for educators, law and justice education, music education and outdoor, environmental and experiential education. Since our web site launch on September 27, 2006, online site statistics and web rankings indicate there are currently 1,888 pages and 20,185,651 page views using 7.85 Gig of bandwidth per month. Pages are written, edited, published and hosted by Brampton, Ontario, Canada based educator David Spencer. On social media, you may find David as @DavidSpencerEdu on Twitter, as DavidSpencerdotca on Linkedin.com and DavidSpencer on Prezi. Please send your accolades, feedback and resource suggestions to David Spencer. Share on social media with the hashtag #EducationParagon. Thank you for visiting. You may contact David Spencer here.
The following resources are helpful to parents and teachers:

---
< Home

| Categories | Courses | Educators | Glossary | Images | Literacy | New | Parents | Popular | Search | Students
---

David Spencer's Piano Resources
The shortcut to this page is http://piano.davidspencer.ca.

Heintzman Piano For Sale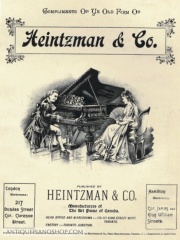 Heintzman Piano
Heintzman & Co. Ltd. Piano manufacturing and retailing business was based in Toronto 1866-1978 and relocated in Hanover, Ont, 1978-1986 under the amended name Heintzman Ltd. It was founded by Theodore August Heintzman (b Theodor August Heintzmann, Berlin, 19 May 1817, naturalized Canadian 1886, d Toronto 25 Jul 1899 (see Plot 1, Lot 10 Mount Pleasant Cemetery, Toronto) who had been apprenticed to the piano-building trade about 1831. Henry E. Steinway came to the USA in the same year.
It is not likely that Heintzman spent all his Berlin years in the piano trade, for various biographical sketches refer to him as a machinist, an instrument-maker, and a cabinet-maker, and one source even claims that he drew the patterns for the first locomotive built in his native city. In 1866, he established the first Heintzman factory in Toronto at 23 Duke St. (modern-day Adelaide). Two years later he moved to 105 King Street west, employing 12 and producing 60 pianos a year. By 1873 he had moved further down King (the site of today's TD Centre) where his new building served as factory, showroom and office space. Source:Heritage Toronto See the Patent no. 2915 "Improvements on Piano-Fortes," Theodore A. Heintzman Filing year 1873. By 1890, the firm was one of Toronto's largest manufacturing concerns, employing more than 200 craftsmen and producing 1000 pianos per year. There were 18 branch stores and 13 distributors, from coast to coast, and the export trade was significant.
Two competing companies were acquired when their heads retired in 1927: that of Theodore August's nephew Gerhard Heintzman, and the Nordheimer Piano & Music Company.
In January 1981 Heintzman Ltd was sold by the family to Sklar-Peppler Inc. of Hanover, Ontario, and was operated by Sklar-Peppler as a subsidiary under the Heintzman Ltd name; it redesigned, rescaled and re-engineered both upright and grand pianos, and by 1985 750 uprights and 40-50 grands were produced annually.
In 1986 The Music Stand, an Oakville-based franchise music retail chain, purchased from Sklar-Peppler (who retained the Hanover factory.property) the patents and trademarks of Heintzman Ltd., as well as the remaining inventory, which it marketed. However in 1990 a Canadian Federal Court judge ruled that it could not place the Heintzman nameplate on pianos built in South Korea and the USA, which it imported for sale in Canada."
-Sources Encyclopedia of Music in Canada. More info from Thomas Lawrie Piano Technician. More info from Wikipedia. See Heintzman & Co. Ltd. History and original Heintzman & Co. Ltd. advertisements from The Antique Piano Shop in Friendsville, Tennessee. How old is my Heintzman & Co. Ltd. Piano piano?
"Ye Olde Firme" Heintzman & Company, Ltd., 1885–1930: A Case Study in Canadian Piano Manufacturing by James Andrew Ross Postdoctoral Fellow, University of Guelph © 1994 HTML, PDF
Videos of Heintzman Pianos