Are you ready to learn?
Why do homework? How can parents and guardians help their child with their school responsibilities?
Quizzes and Glossaries for Students and Teachers What time is it?
Today is Tuesday May 30, 2023 at 04:47. Today is a great day to be alive!

GIS
From David Spencer's Education Paragon: Helping students develop citizenship, faith, literacy, responsibility and vision
David Spencer's Education Paragon is a free educational resource portal helping David Spencer's secondary school students, their parents and teaching colleagues with understanding, designing, applying and delivering assessment, curriculum, educational resources, evaluation and literacy skills accurately and effectively. This wiki features educational resources for Indigenous Aboriginal education, field trips for educators, law and justice education, music education and outdoor, environmental and experiential education. Since our web site launch on September 27, 2006, online site statistics and web rankings indicate there are currently 1,888 pages and 20,185,651 page views using 7.85 Gig of bandwidth per month. Pages are written, edited, published and hosted by Brampton, Ontario, Canada based educator David Spencer. On social media, you may find David as @DavidSpencerEdu on Twitter, as DavidSpencerdotca on Linkedin.com and DavidSpencer on Prezi. Please send your accolades, feedback and resource suggestions to David Spencer. Share on social media with the hashtag #EducationParagon. Thank you for visiting. You may contact David Spencer here.
The following resources are helpful to parents and teachers:

---
< Home

| Categories | Courses | Educators | Glossary | Images | Literacy | New | Parents | Popular | Search | Students
---

CU Topics for Physical Geography

Physical Geography: Patterns, Processes and Interactions (CGF3M) with David

Course Code: CGF3M
Course Name: Physical Geography:Patterns,Processes and Interactions
Course Description: This course examines the major patterns of physical geography and the powerful forces that affect them. Students will investigate the dynamic nature of the earth, the evolving relationship between the planet and its people, and the factors that limit our ability to predict the changes that will occur. Students will use a wide range of geotechnologies and inquiry methods to investigate the distribution and interaction of the elements of their physical environment and to communicate their findings.
Prerequisite: Geography of Canada, Grade 9,Academic or Applied
Ontario Ministry of Education Curriculum Guidelines: (PDF)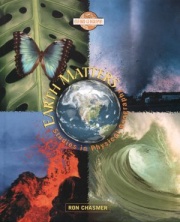 Textbook Used: Chasmer,Ron. Earth Matters: Studies in Physical Geography. Oxford University Press, Don Mills, 2001 ISBN: 0-19-541555-8.

Student Responsibility
Students have many responsibilities with regard to their learning in school. Students who are willing to make the effort required and who are able to apply themselves will soon discover that there is a direct relationship between this effort and their achievement, and will therefore be more motivated to work. There will be some students, however, who will find it more difficult to take responsibility for their learning because of special challenges they face. For these students, the attention, patience, and encouragement of teachers can be extremely important factors for success. However, taking responsibility for one's progress and learning is an important part of education for all students, regardless of their circumstances.
Successful mastery of concepts and skills in Canadian and world studies requires a sincere commitment to work, study, and the development or strengthening of appropriate skills. As well, students should be encouraged to actively pursue opportunities outside the classroom to extend and enrich their understanding of these subjects. For example, it is recommended that they create their own files on current events that relate to their areas of study, or that they explore subject-related volunteer opportunities, recreational reading materials, movies or documentaries, or public affairs programs on television.

Parent Responsibility
Parents have an important role to play in supporting student learning. Studies show that students perform better in school if their parents or guardians are involved in their education. By becoming familiar with the curriculum, parents can find out what is being taught in the courses their children are taking and what students are expected to learn. This awareness will enhance parents' ability to discuss schoolwork with their children, to communicate with teachers, and to ask relevant questions about their children's progress. Knowledge of the expectations in the various courses also helps parents to interpret teachers' comments on student progress and to work with teachers to improve student learning.
The Canadian and world studies curriculum promotes lifelong learning not only for students but also for their parents and all those with an interest in education. In addition to supporting regular school activities, parents can help their sons and daughters by encouraging them to take an active interest in current events and issues and offering them opportunities to question and reflect on what is happening in the world. Other examples of effective ways to support student learning include attending parent-teacher interviews, participating in parent workshops and school council activities (including becoming a school council member), and encouraging your child to complete their assignments at home. Completing homework is crucial for passing this course.
GIS
"A geographic information system (GIS) lets us visualize, question, analyze, interpret, and understand data to reveal relationships, patterns, and trends." (ESRI.com, 2012)
GIS Maps
[Google Earth]
[Google Maps]
GIS Careers
GIS Data Sources
GIS Organizations
GISCorps makes available highly specialized GIS expertise to improve the well being of developing and transitional communities without exploitation or regard for profit.
GIS Videos
GIS Video Tutorials Explore some of the featured GIS video content from around the web. ArcGIS and other exciting advances in geospatial technology are showcased in the videos
References