Are you ready to learn?
Why do homework? How can parents and guardians help?
What time is it? When are my units and coursework due?
Today is Sunday June 20, 2021 at 03:10. Today is a great day to be alive!

GBX Bass Amplifier
From David Spencer's Education Paragon: Helping students develop citizenship, faith, literacy, responsibility and vision
David Spencer's Education Paragon is a free educational resource portal helping David Spencer's secondary school students, their parents and teaching colleagues with understanding, designing, applying and delivering assessment, curriculum, educational resources, evaluation and literacy skills accurately and effectively. This wiki features educational resources for Indigenous Aboriginal education, field trips for educators, law and justice education, music education and outdoor, environmental and experiential education. Since our web site launch on September 27, 2006, online site statistics and web rankings indicate there are currently 1,883 pages and 19,171,729 page views using 7.85 Gig of bandwidth per month. Pages are written, edited, published and hosted by Brampton, Ontario, Canada based educator David Spencer. On social media, you may find David as @DavidSpencerEdu on Twitter, as DavidSpencerdotca on Linkedin.com and DavidSpencer on Prezi. Please send your accolades, feedback and resource suggestions to David Spencer. Share on social media with the hashtag #EducationParagon. Thank you for visiting. You may contact David Spencer here.
---
< Home

| Categories | Courses | Educators | Glossary | Images | Literacy | New | Parents | Popular | Search | Students
---
GBX Amplifier for Bass Guitar and Keyboard
This vintage GBX Amplifier for Bass Guitar and Keyboard was manufactured in Toronto circa 1975 by Ahed Music Corporation, Ltd. Learn more about this amp from SoundInstruction.net.
The speaker bin contains four 10" high performance Celestion speakers. The amp is built into the bin and pushes 180 watts.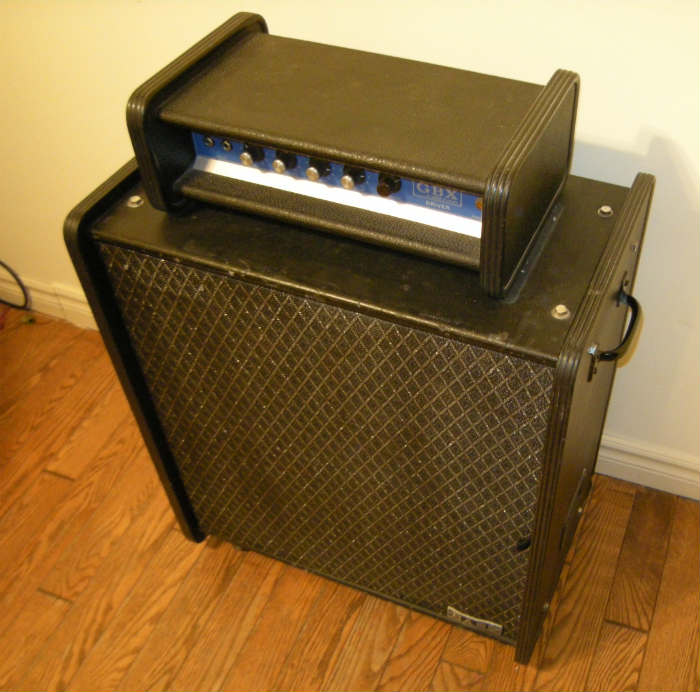 GBX Amplifier for Bass Guitar and Keyboard
Ahed Music Corporation, Ltd.
Ahed Music Corporation, Ltd. established in 1969, was a Canadian company that produced guitar amplifiers, as well as guitars. Its main product line was the GBX amplifier, which could reach 180 watts with 4x10", 4x12" or 2x15" speakers.
GBX was the acronym for "Guy Beresford Experiment". The GBX series was a concept created by Guy Beresford, (now with Yorkville Sound). He worked in the basement of hi parent's store Kalua Music on Kingston Road in Scarborough, Ontario. Jules Lessard might have been in volved in the project.
GBX Amplifier Construction
The GBX amplifier had a pre-amplifier head that controlled the gain, brilliance, depth, contour and response of the output. The detailed history behind the GBX guitar amplifier began in 1968 and is in reality the original thought of musician Jim Garrett and engineer Adrian Ball. The objective was to make a solid state amplifier sound like the warm tube sound of Fender and Marshall amplifiers. The secret behind the GBX sound was a coupling transformer separating the frond end from the output transistors. Guy Beresford got involved in 1971. Source: wikipedia.org
Lighthouse Band Used GBX Bass Amplifiers
Their GBX amplification products were endorsed by the popular Canadian 70's rock/jazz fusion group Lighthouse. A poster advertising GBX was distributed in 1973-74 and read: "LIGHTHOUSE, A super group for many years. Their equipment requirements: versatility, reliability, portability and serviceability - they found all of these in GBX. The equipment that takes over when other amps quit. GBX"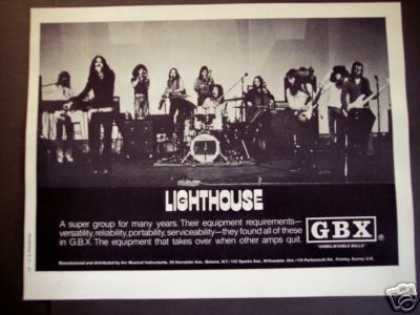 Source: 1970's Ads on vintageadbrowser.com

GBX Amplifier for Bass Guitar and Keyboard

Lighthouse with their GBX amps performing at Toronto City Hall
GBX amps were made in Toronto during the late 60's through the mid 70's. Their piggy back rigs were all based on the power module being housed in the cabinet with the preamp sitting on the top of the cabinet.
Because their amps were modular based, you could have up to and including 4 cabinets connected to one preamp. But you could also daisy chain cabinets together to exceed the 4 cabinets and still controlled by a single preamp. Again that's because each cabinet housed its own solid state power amp in it.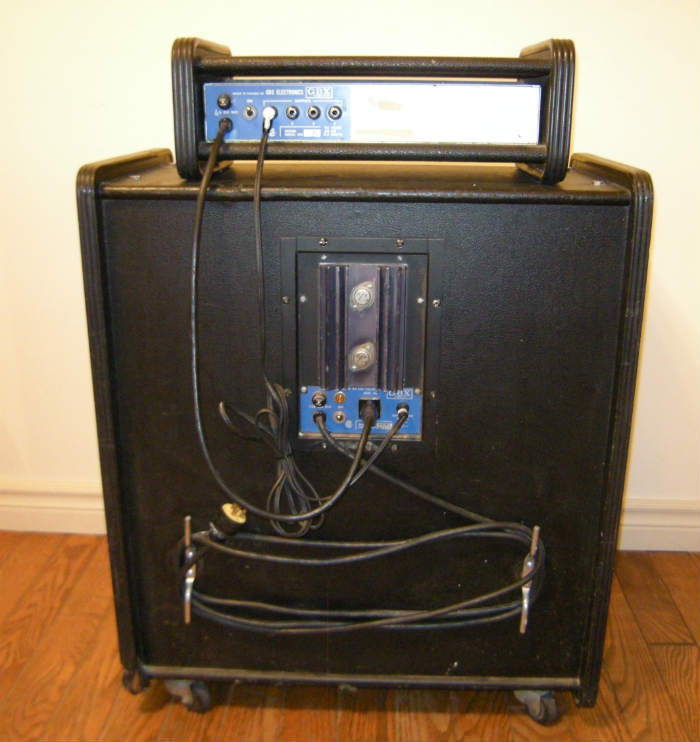 GBX Amplifier for Bass Guitar and Keyboard

The standard bass cabinet was a 410 cab, with the 90 wattpower amp module in it. GBX users would have 2 of these stacked creating a 810 rig with 180 watts output, which for the time was more than enough power.

GBX Amplifier for Bass Guitar and Keyboard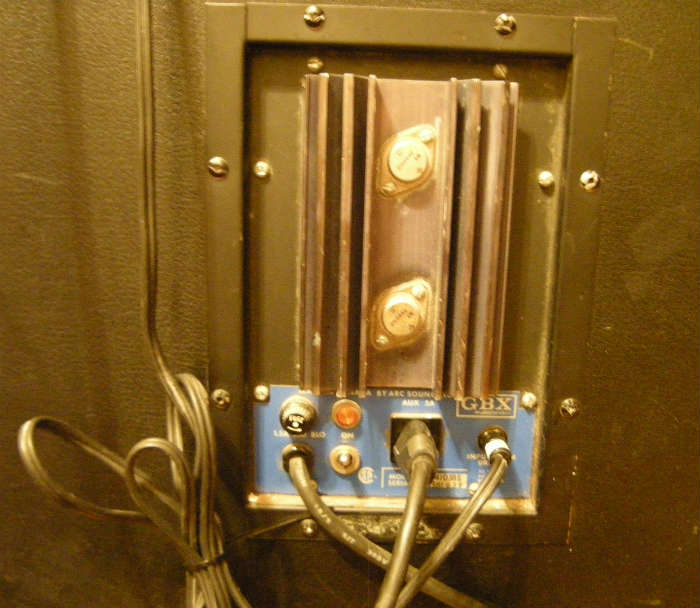 GBX Amplifier for Bass Guitar and Keyboard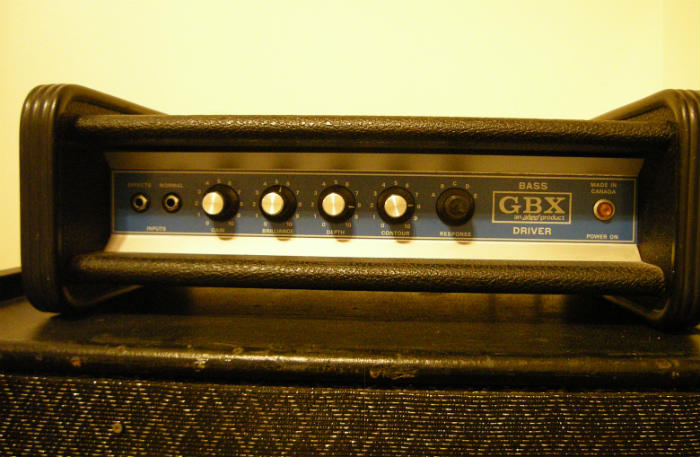 GBX Amplifier for Bass Guitar and Keyboard

GBX Amplifier for Bass Guitar and Keyboard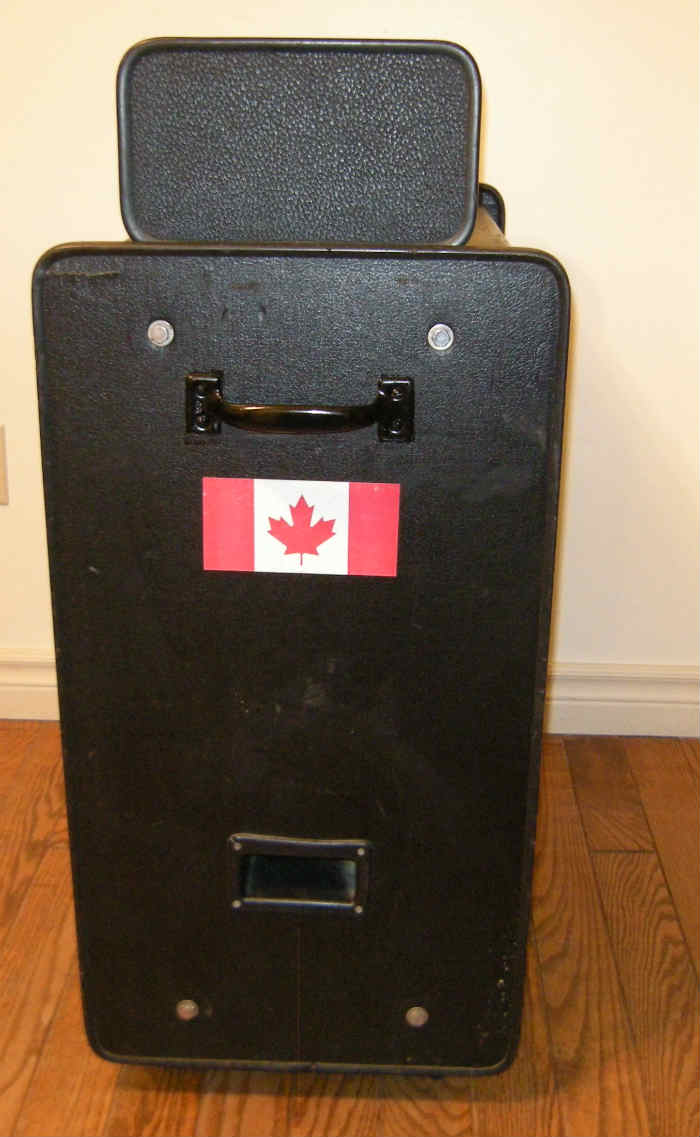 GBX Amplifier for Bass Guitar and Keyboard