Are you ready to learn?
Why do homework? How can parents and guardians help their child with their school responsibilities?
Quizzes and Glossaries for Students and Teachers What time is it?
Today is Saturday June 3, 2023 at 08:45. Today is a great day to be alive!

Digital Tools
From David Spencer's Education Paragon: Helping students develop citizenship, faith, literacy, responsibility and vision
David Spencer's Education Paragon is a free educational resource portal helping David Spencer's secondary school students, their parents and teaching colleagues with understanding, designing, applying and delivering assessment, curriculum, educational resources, evaluation and literacy skills accurately and effectively. This wiki features educational resources for Indigenous Aboriginal education, field trips for educators, law and justice education, music education and outdoor, environmental and experiential education. Since our web site launch on September 27, 2006, online site statistics and web rankings indicate there are currently 1,888 pages and 20,185,651 page views using 7.85 Gig of bandwidth per month. Pages are written, edited, published and hosted by Brampton, Ontario, Canada based educator David Spencer. On social media, you may find David as @DavidSpencerEdu on Twitter, as DavidSpencerdotca on Linkedin.com and DavidSpencer on Prezi. Please send your accolades, feedback and resource suggestions to David Spencer. Share on social media with the hashtag #EducationParagon. Thank you for visiting. You may contact David Spencer here.
The following resources are helpful to parents and teachers:

---
< Home

| Categories | Courses | Educators | Glossary | Images | Literacy | New | Parents | Popular | Search | Students
---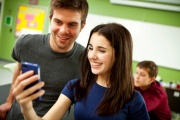 Digital Tools
In education, Digital Tools refer to electronic devices, computers and computer software that help in the learning and teaching process. According to Kelly Walsh, Chief Information Officer at The College of Westchester in White Plains, New York, "Properly implemented and supported instructional technologies and tools can help to make learning more engaging and more productive for students and teachers alike, improving learning outcomes and helping to prepare students for continued education and ultimately productive, successful careers. The nature of these technologies and tools and how they are being incorporate and embraced in teaching is constantly evolving, with new ideas and applications emerging every day. "
A number of educators, magazines and technology companies research and test new digital tools and provide their reviews online.
Books About Digital Tools
You can watch Steve Johnson's TEDx Talk, read his blog and follow him on Linkedin.com and Twitter.
Digital Tools for Teaching
The following are notes gleaned from Steve Johnson's book "Digital Tools for Teaching".
Collaborative Whiteboards Flockdraw.com, Scribblar.com, Dabbleboard.com<--no longer active, Dimdim.com<--no longer active
Digital Storytelling
EPals
Glogster
Google Docs
Google Earth
Google Forms
Image Editing & Enhancement
Live Internet Video Streaming
Message Boards
Mind Mapping
Ning social networks
Podcasting
Prezi
Schooltube
Screen recording (screencasting)
Second Life
Slideshare
Spore Creature Creator
Timeline Creators
Todaysmeet
Twitter
Video Conferencing
Voicethread
Website Creators
Wikis
Word Clouds
Zoho

Here are some other digital resources of interest to educators.
Google Calendar
NFB National Film Board
PDF Merge Tools: ilovepdf.com
TeacherTube]