Are you ready to learn?
Why do homework? How can parents and guardians help their child with their school responsibilities?
Quizzes and Glossaries for Students and Teachers What time is it?
Today is Saturday June 3, 2023 at 11:39. Today is a great day to be alive!

Deborah Young
From David Spencer's Education Paragon: Helping students develop citizenship, faith, literacy, responsibility and vision


Aboriginal Education and Native Studies Resources from David Spencer's Education Paragon

<--- Back to Aboriginal Education & Native Studies Resources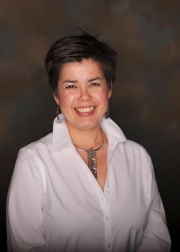 Deborah Young
Deborah Young is Executive Lead, Indigenous Achievement, Office of the President, University of Manitoba, Winnipeg, Manitoba. She holds a Masters of Social Work in Policy, Administration and Evaluation. She is a member of Opaskwayak Cree Nation. Since 1997 she held several major federal jobs, including policy advisor to Indian and Northern Affairs Canada Ministers Chuck Strahl and Jim Prentice.
One of the major goals in U of M's strategic planning framework is "to make Winnipeg the national centre of excellence in aboriginal education, and in particular to allow aboriginal students to be prepared for and to achieve educational success in the full range of academic programs we offer."
Deborah will tout the University of Manitoba's indigenous courses and programs and encourage young First Nation, Métis and Inuit students to continue their education. "I want our people to go to school and stay in school -- it doesn't matter what school they go to." she says.
She intends to spend a lot of time this coming school year in middle-school classrooms. "I call it planting a seed in the minds of our young people, knowing it's possible to embrace education as a means to success."
Young will also be talking to as many aboriginal students on campus as possible, urging them to self-identify as aboriginal.
Some aboriginal students won't self-identify on the student registration forms because of privacy concerns or because they simply don't see it as important, she said.
The university needs to know the exact numbers of aboriginal students to best tailor its programs and services while showing younger students proof of how many of their older peers are in post-secondary education.
Other Canadian universities offer similar programs. The University of Victoria manages their "Office of Indigenous Affairs" and Lakehead University offers their "Office of Aboriginal Initiatives". Deborah is eager to copy the ideas that work in Victoria and Thunder Bay.
Listen to the Campus Cast recording of Deborah Young as she explains her unique role at the university and tells about a life-changing moment in Florida. Campus Cast is semi-weekly podcast produced by the University of Manitoba that allows researchers to talk freely about their work
References