Are you ready to learn?
Why do homework? How can parents and guardians help their child with their school responsibilities?
Quizzes and Glossaries for Students and Teachers What time is it?
Today is Saturday June 3, 2023 at 15:35. Today is a great day to be alive!

Culminating Unit for Travel and Tourism:A Regional Geographic Perspective (CGG3O) with David
From David Spencer's Education Paragon: Helping students develop citizenship, faith, literacy, responsibility and vision
David Spencer's Education Paragon is a free educational resource portal helping David Spencer's secondary school students, their parents and teaching colleagues with understanding, designing, applying and delivering assessment, curriculum, educational resources, evaluation and literacy skills accurately and effectively. This wiki features educational resources for Indigenous Aboriginal education, field trips for educators, law and justice education, music education and outdoor, environmental and experiential education. Since our web site launch on September 27, 2006, online site statistics and web rankings indicate there are currently 1,888 pages and 20,185,651 page views using 7.85 Gig of bandwidth per month. Pages are written, edited, published and hosted by Brampton, Ontario, Canada based educator David Spencer. On social media, you may find David as @DavidSpencerEdu on Twitter, as DavidSpencerdotca on Linkedin.com and DavidSpencer on Prezi. Please send your accolades, feedback and resource suggestions to David Spencer. Share on social media with the hashtag #EducationParagon. Thank you for visiting. You may contact David Spencer here.
The following resources are helpful to parents and teachers:

---
< Home

| Categories | Courses | Educators | Glossary | Images | Literacy | New | Parents | Popular | Search | Students
---
---
Unit 3: Culminating Unit
Your Unit 3: Culminating Unit is worth 15% of your semester mark. Make sure that you attend class each Wednesday, participate in our group planning sessions, gather research, label maps and type up the information you need for your student responsibility.
Destination: United Kingdom
Task: For our class simulation and role playing assignment our goal is to research and write a "Trip Plan Booklet to the UK" for a vacation trip for four (4) people that includes Ray Lewis, Will Smith, Brad Pitt and Scarlet Johansson to travel from Toronto Pearson International Airport to the United Kingdom. Destinations include England (Britain), Scotland and Northern Ireland. We will prepare a tourism booklet and record our planning and marketing efforts using work logs, written notes, video recording, audio recording, surveys and interviews. Students will keep a personal CU Work Log as a journal to record their contributions to the trip planning and tourism booklet.
Travel Dates: Monday July 5, 2011 to Monday July 19, 2011 (two weeks)
Information About the United Kingdom
Accomodations
During the planning process, the accommodation coordinator must include a variety of places to stay and sleep overnight (accommodations) while travelling in the United Kingdom. Accomodations should include most of the following:
Events During Our Trip to the UK
Transportation For Our Trip to the UK
During the planning process, the transportation coordinator must include a variety of methods of transportation and experiences. Transpotation logistics should include most of the following:
aircraft
automobile
boat or ship
bus
cycling
motorcycle
taxi
train
walking
Communications
Maps, Roads and Routes in the United Kingdom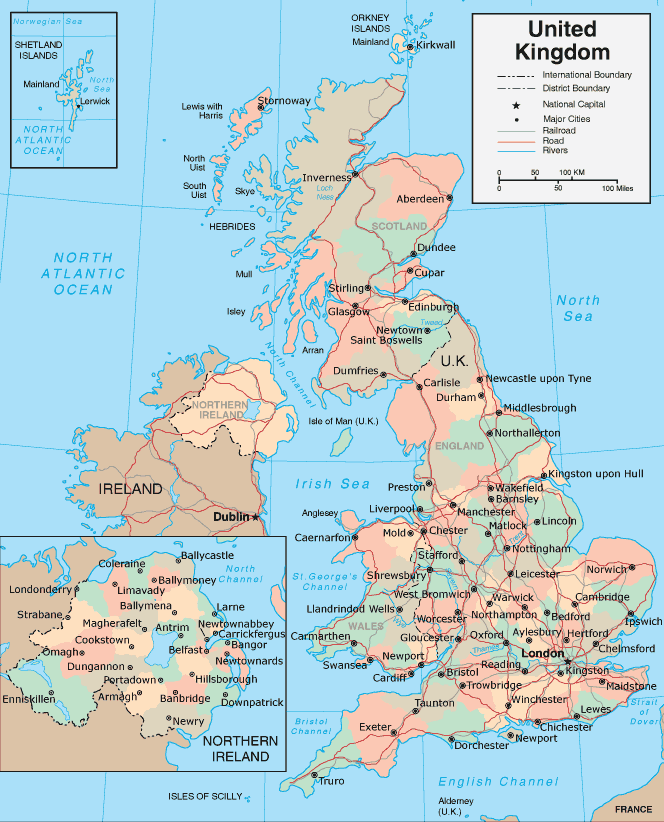 Map of the United Kingdomsource: http://www.map-of-uk.com/
Attractions in the United Kingdom
Historic Royal Palaces - Five important historic sites in the United Kingdom: Tower of London, Hampton Court, Kensington Palace, Banqueting House and Kew Palace.
Itinerary for Our Trip to the United Kingdom
Start in Toronto. Fly from Malton's Pearson International Airport. (IATA is YYZ) The flight is seven (7) hours. London's time zone is five (5) hours ahead of Eastern Standard Time)
London, England- Land at London Gatwick Airport (IATA is LGW).
Stonehenge, England
Bath, England
Stratford, England
The Lake District, England -We need to find some farms, towns and hiking trails to visit.
Hadrian's Wall, England
Edinburgh, Scotland
Aberdeen, Scotland
Inverness, Scotland- to see the Loch Ness Exhibit
Paisley, Scotland - west of Glasgow to catch a train south to Strantaer
Strantaer, Scotland- take the ferry across the North Channel to Belfast
Belfast, Northern Ireland-
Belfast, Northern Ireland - take a flight to London, England
Date and Time Zone Calculators
Use the Calendar calculator to find the exact dates of your trip
Use the Time Zones calculator to find the time zone difference between Canada and the United Kingdom.
Accommodation Booking Services