Are you ready to learn?
Why do homework? How can parents and guardians help their child with their school responsibilities?
Quizzes and Glossaries for Students and Teachers What time is it?
Today is Saturday June 3, 2023 at 15:35. Today is a great day to be alive!

Canada Travels: Issues and Destinations
From David Spencer's Education Paragon: Helping students develop citizenship, faith, literacy, responsibility and vision
David Spencer's Education Paragon is a free educational resource portal helping David Spencer's secondary school students, their parents and teaching colleagues with understanding, designing, applying and delivering assessment, curriculum, educational resources, evaluation and literacy skills accurately and effectively. This wiki features educational resources for Indigenous Aboriginal education, field trips for educators, law and justice education, music education and outdoor, environmental and experiential education. Since our web site launch on September 27, 2006, online site statistics and web rankings indicate there are currently 1,888 pages and 20,185,651 page views using 7.85 Gig of bandwidth per month. Pages are written, edited, published and hosted by Brampton, Ontario, Canada based educator David Spencer. On social media, you may find David as @DavidSpencerEdu on Twitter, as DavidSpencerdotca on Linkedin.com and DavidSpencer on Prezi. Please send your accolades, feedback and resource suggestions to David Spencer. Share on social media with the hashtag #EducationParagon. Thank you for visiting. You may contact David Spencer here.
The following resources are helpful to parents and teachers:

---
< Home

| Categories | Courses | Educators | Glossary | Images | Literacy | New | Parents | Popular | Search | Students
---
Canada Travels: Issues and Destinations
Canada Travels: Issues and Destinations is a textbook widely used for the course Travel and Tourism:A Regional Geographic Perspective (CGG3O).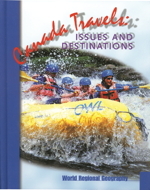 Canada Travels: Issues and Destinations
Student Texbook Published by Irwin Publishing ©2001
ISBN-13: 9780772529084
ISBN/ISSN: 0772529086
More details at http://nelsonschoolcentral.com
Details at the Ontario Ministry of Education Trillium List.

Also available for teachers...
Canada Travels: Issues and Destinations
Teacher's Resource Guide
ISBN/ISSN: 0772529094 ISBN-13: 9780772529091
Retail Price: $ 183.69
School Price: $ 146.95
Author: Graham Draper
More details at http://nelsonschoolcentral.com