Are you ready to learn?
Why do homework? How can parents and guardians help their child with their school responsibilities?
Quizzes and Glossaries for Students and Teachers What time is it?
Today is Saturday June 3, 2023 at 11:29. Today is a great day to be alive!

Busholme Inn,Erin,ON,Canada
From David Spencer's Education Paragon: Helping students develop citizenship, faith, literacy, responsibility and vision
David Spencer's Ontario Communities portal of of David Spencer's Education Paragon provides information on the community history, natural history and significant people of a few communities based in Ontario, Canada.
The following categories will connect you to some background for the community of Erin,Ontario,Canada.
---
Erin History | Businesses | Churches | Education | Health | Media | Natural History | People | Recreation
---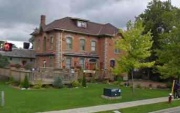 The Busholme Inn,Erin,ON,Canada
The historic building gracing the west side of Main Street in Erin, Ontario, Canada was a hotel until it was converted into a restaurant. It was called the Rob Roy until 2008. Today The Busholme Inn has an outdoor deck for dining, live music and special events. The owner/operator of The Busholme Inn from 2010 to 2012 was Lynn Bonner. Unfortunately, Lynn Bonner died in 2012. Since 2014, the new owner has been Dana Mundell.
The Busholme Inn
156 Main Street, (at Church Street West)
Erin, ON, N0B 1T0
phone: 519-315-0315
Google map to The Busholme Inn
Significant Buildings in Erin,ON,Canada
At its peak, the town of Erin five (5) hotels.
The Station House destroyed by fire in the early 1900's.
The Queen's Hotel, destroyed by fire in 1912.
The Clark House, which became a butter-making business and home to James Hamilton.
The Globe Hotel, destroyed by fire in 1945.
The Busholme Inn. As of 2010, The Busholme Inn is the sole surviving hotel located on its original site.
Source: Hilderbrandt,Gloria."Tradition and Tourism:Erin Experience the Charm"tackaberrytimes.com. 2010 <http://www.tackaberrytimes.com/PlacesToGo.asp?Places%20to%20Go/erin_2/erin_2.htm>.
Restaurant Reviews for The Busholme Inn,Erin,ON,Canada
The following web sites provide some reviews of the atmosphere and food at The Busholme Inn located in Erin, Ontario, Canada.