Are you ready to learn?
Why do homework? How can parents and guardians help their child with their school responsibilities?
Quizzes and Glossaries for Students and Teachers What time is it?
Today is Wednesday June 7, 2023 at 18:54. Today is a great day to be alive!

Bark Lake Reunion 2007
From David Spencer's Education Paragon: Helping students develop citizenship, faith, literacy, responsibility and vision


The Friends of Bark Lake: Ontario Camp Leadership Centre, Irondale, Ontario, Canada
---
Join Us for Our Next Bark Lake Reunion
We organize Reunions of Ontario Camp Leadership Centre staff and campers, family and friends. To find out details and to register for our next reunion, please subscribe to The Friends of Bark Lake E-Newsletter.
Bark Lake Reunion May 18 to 21, 2007
Our Reunion of Ontario Camp Leadership Centre staff and campers, family and friends was held at Bark Lake in Irondale from May 18 to 21, 2007.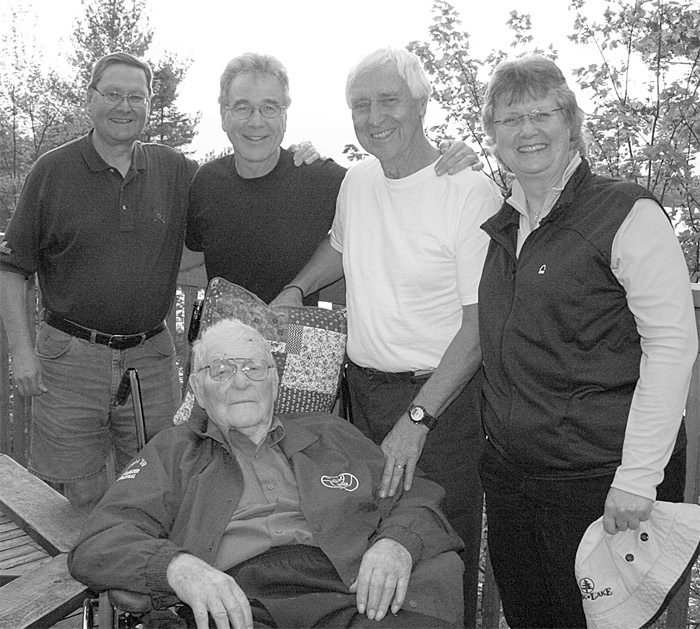 Pictured in the photo are Richard Devenney, Alex Wright, Swain Van Camp, Frances Flint and Gord Wright (sitting).

This is a photo taken by The Times of Minden staff reporter Jessica Young during her interview at our May 2007 Reunion
at Bark Lake. The story was published on page 17, May 23, 2007 of Issue # 2289 of The Times of Minden.

photo © The Times of Minden used with permission
Remembering Bark Lake
By Jessica Young
© The Times of Minden used with permission
This story was published on page 17, May 23, 2007 of Issue # 2289 of The Times of Minden
Campers reminisce about their favourite spot in the Highlands
Going back to their old camping grounds was an emotional event for the people who attended the Bark Lake reunion held last Saturday. The Friends of Bark Lake and David Spencer organized a glorious weekend for former campers and alumni to come back to Irondale and relive their youth. Attendees who made the trek back in time to reunite with old friends were treated to a very special guest of honour during their weekend stay.
Gord Wright
Ninety-six-year-old Gord Wright, who founded the Bark Lake Leadership Centre was present with his eldest son, Alec. Alec says it was his father's dream to have a camp with kids from all over the province. Regardless of differences in race or religion, Gord wanted to see young people come together to learn how to be tomorrow's leaders and treat each other with respect. "His thought was you stick them together for three weeks in a closed, controlled, leadership-oriented environment if you're going to teach them citizenship and it worked," Alec says. "That's why the bonding was phenomenal. Kids from all different descents went away feeling they got a buddy."
Alec Wright
Five words epitomize what Alec feels Bark Lake means to him and all the others who attended the camp: beauty, people, lessons, ecology, and pleasure. "We've all taken some magnificent lessons," he says. To this day, his father continually gets phone calls from people who have attended Bark Lake throughout the years. Past campers from as far as Japan have kept in touch with the camp legend, reminding him of the positive impact he has had on young lives. Although Alec wasn't an official camper or staff official, he was often at the campsite. He created a long-lasting friendship with Richard Devenney, who first came to Bark Lake when he was seven in 1956.
Richard Devenney
Devenney's father was hired to be camp director that year and he says many of his summers were spent as the official "camp brat". Because Devenney was the son of an employee, he didn't get to partake in any scheduled activities. However, he says that he'll always remember what he learned at Bark Lake. "I spent a lot of time with maintenance people like Dallyn Pickens from Gooderham. If they didn't have a busy day they'd spend some time teaching me carving," said Devenney.
As an observer, Devenney says he was able to have to have a first-hand look at all the skills campers had learned. He watched shy and nervous newcomers to the camp flourish and become outgoing and confident individuals by the time they left. He watched as campers would coordinate and assign tasks in order to make successful trips out into the wilderness. "Just watching the lessons, I learned things about leadership, directed energy, and positive activity levels," said Devenney.
Devenney is now a corporate lawyer and attributes much of his success to the lessons he learned in Haliburton. "Bark Lake and how it operated over many years was drawn on powerful, strong and intellectual ideas about leadership. It is a special property," said Devenney.
Swain Van Camp
Another camper who holds Bark Lake dear to his heart is Swain Van Camp. He attended the prestigious leadership program in 1952 when he was 16. "I found out about it through a recreational director in Listowel, Ontario," said Van Camp.
He travelled by train through Lindsay. Van Camp laughs when he remembers how frightened his mother was when he left for Bark Lake. "My mother cried when I left Listowel, she thought I was going to Japan or Timbucktoo, but it was right here in Ontario," said Van Camp. "The train was so slow you could get out and walk."
His mother had nothing to worry about. Van Camp arrived safely and was excited about the skills he would learn during his three-week stay. The experience for him was so rewarding that Van Camp returned back in 1974 to be a camp director for six years.
One of the valuable lessons Van Camp took with him when he left was the three-legged stool evaluation method. Some of his dearest memories are when teens would gather and talk about their personal strengths and weaknesses. "Campers were asked to evaluate themselves as they sat around and listened and just in case they got it wrong, their peers evaluated them. In case that wasn't clear, the counsellors evaluated them," he says. "In a learning situation, evaluation is very important. Kids appreciated honest evaluation." The type of soul searching and personal growth that was encouraged was something that Van Camp says was pivotal in his later years.
Francis Flint
Francis Flint, who was a camp counsellor for four years in the late 1970s, agrees with Van Camp. She says Bark Lake gave her the opportunity to watch youngsters flourish.
"When they arrive here they are unsure of themselves. They are 15 and 16, they have all the insecurities of the world and are trying to establish themselves as leaders. You see them change and to me that was out of this world," says Flint.
Like many of her peers, Flint says the camp taught her about leadership but the pristine backdrop of Haliburton's lakes also provided the perfect setting to enjoy all the beauty that nature had to offer.
"I have fond memories of sunsets, camp fires, and paddling in the morning. An early morning paddle with the mist coming off the lake, there's nothing like it," she says.
The Beaver
Devenney's favourite spot to frequent was a beaver house by the lake. He would paddle right up to the entrance and listen in on nature's splendor. "You could hear the whimper of the pups inside. The adult beavers were at the top of the water and they would try and distract you by swimming out farther into the lake and slapping their tails," he says.
Beavers provided serenity for Devenney but the animal gave Flint and fellow campers quite a surprise one night. Each night campers would try to find different ways to light the campfire. One evening she and others created a floating campfire raft that was attached to the dock with wires.
"Someone was suppose to say, 'Let there be fire', and flames would shoot from the wire to the campfire," said Flint. "The problem was the beaver ran into the water and pulled the wire when we weren't ready. Everyone was quite startled."
Rocks in the Backpacks
This was one of many funny incidents that took place at Bark Lake. However, there was always one unexpected surprise that was no accident. The entire group recalled this funny prank as one of their favourite Bark Lake jokes. Campers would place a large rock in the backpacks of their unsuspecting friends before they left on outdoor excursions.
"They were going, sweating, and they'd get to the campsite and find a humungous rock and underneath it would be a bag of licorice and you'd have to figure out who did it. This carried on from year and year. It was a great deal of fun and enjoyment and laughter," said Flint.
Old Friends
The laughter and reminiscing of the special moments that each person shared at Bark Lake could have gone on for weeks. During one of the busiest times in the Highlands, an intimate group of old friends took the time to enjoy each other's company, and a shared appreciation for Bark Lake, just as they did so many years before.
Please send your feedback on this story here.