Are you ready to learn?
Why do homework? How can parents and guardians help their child with their school responsibilities?
Quizzes and Glossaries for Students and Teachers What time is it?
Today is Wednesday June 7, 2023 at 19:46. Today is a great day to be alive!

Attawapiskat
From David Spencer's Education Paragon: Helping students develop citizenship, faith, literacy, responsibility and vision


Aboriginal Education and Native Studies Resources from David Spencer's Education Paragon

<--- Back to Aboriginal Education & Native Studies Resources
Aboriginal communities of concern include Attawapiskat, Natuashish.
Attawapiskat
"Attawapiskat First Nation (Cree: ᐋᐦᑕᐙᐱᐢᑲᑐᐎ ᐃᓂᓂᐧᐊᐠ (Āhtawāpiskatowi ininiwak, "People of the parting of the rocks"); unpointed: ᐊᑕᐗᐱᐢᑲᑐᐎ ᐃᓂᓂᐧᐊᐠ) is an isolated First Nation located in Kenora District in northern Ontario, Canada, at the mouth of the Attawapiskat River at James Bay. The traditional territory of the Attawapiskat First Nation extends beyond their reserve up the coast to Hudson Bay and hundreds of kilometres inland along river tributaries." - Source: Wikipedia http://en.wikipedia.org/wiki/Attawapiskat_First_Nation
Many residents in Attawapiskat live in makeshift tents and shacks that lack heat, electricity and plumbing. Crisis in Attawapiskat CBC News
The reserve is dependent on its winter road, which is only open from late December to March. Once it melts, there is no access.
Attawapiskat History
"The People of the Kattawapiskak River" Time: 2012, 50 min 14 s NFB: National Film Board documentary (January 11, 2013)that features interviews with residents of Attawapiskat. Alanis Obomsawin's documentary The People of the Kattawapiskak River exposes the housing crisis faced by 1,700 Cree in Northern Ontario, a situation that led Attawapiskat's band chief, Theresa Spence, to ask the Canadian Red Cross for help. With the Idle No More movement making front page headlines, this film provides background and context for one aspect of the growing crisis.
Video of Charlie Angus MP speaking about the Attawapiskat fight for education rights at the Ontario Federation of Labour November 27, 2009. In this speech reference is made to the sewage and housing crisis that was plaguing the community. When the crisis finally drew international outrage in 2009, the Conservative government claimed they didn't know anything about a housing and infrastructure crisis in Attawapiksat.
Archeologist confirms village site on Attawapiskat River: The people of Neskantaga have been telling Ring of Fire companies for years that the place where industry wants to build a bridge over the Attawapiskat River is an important cultural location containing sacred burial sites.
Now an archeologist has backed up the First Nation's assertion that the river crossing has been a crucial gathering place and site of an old village. Neskantaga Chief Peter Moonias has stated he is willing to die to prevent a bridge from being built over the Attawapiskat River. He has repeatedly cited the sacred burial sites in the area as reason to stop the transportation corridor. Read full story at WawatayNews.ca
Maps
Current News Feed on the Crisis in Attawapiskat
News Reports About Attawapiskat
2011 Housing Crisis Response

photo by Frank Gunn, Rueters
John Duncan to meet Attawapiskat Chief Spencer in Thunder Bay December 15, 2011
John Duncan, Minister of Aboriginal Affairs and Northern Development for the Federal Government of Canada will meet with Attawapiskat Chief Theresa Spence this Thursday December 15, 2011, in an attempt to clarify Ottawa's role in resolving the housing crisis in Attawapiskat. Spence said she never agreed to third-party management in Attawapiskat and later called for Duncan's resignation. She has also threatened to sue Ottawa over the third-party management issue.
Attawapiskat recently declared a state of emergency due to a housing crisis that has left people living in tents and trailers at the onset of winter.
Source: CTV News <http://calgary.ctv.ca/servlet/an/local/CTVNews/20111213/attawapiskat-chief-calls-for-government-minister-step-down-possible-lawsuit-111213/20111213/?hub=CalgaryHome>

John Duncan, Minister of Aboriginal Affairs and Northern Development
Shawn Atleo leading delegation to visit Attawapiskat
Atleo leading delegation to visit Attawapiskat Assembly of First Nations National Chief Shawn Atleo is leading a delegation to visit Attawapiskat Tuesday December 20, 2011. Atleo will be joined by Akwesasne Grand Chief Mike Mitchell and AFN Ontario regional Chief Angus Toulouse. Former Olympian Waneek Horn-Miller will also be part of the delegation, the AFN said in a statement.
Canada's natives have been betrayed, says Shawn Atleo, national chief of the Assembly of First Nations By David Ljunggren Reuters Canada "Canada is betraying its native peoples, who must deal with dreadful living conditions, poor health care and discrimination, the country's top aboriginal leader said in a fiery speech on Tuesday.
Native Indians, who make up around 1.2 million of Canada's 34.5 million population, suffer high levels of poverty and crime. Unemployment and suicide levels are highest among natives, especially on the remote reserves and settlements that dot the country's north.
Dismaying conditions in the isolated community of Attawapiskat in northern Ontario - where a severe housing crisis means people are living in tents as temperatures dip down towards minus 40 Fahrenheit (minus 40 Celsius) - have been at the center of Canadian media attention since last week, embarrassing the federal government.
Bob Rae calls Attawapiskat 'our Third World' and urges PM Harper to visit Attawapiskat
Charlie Angus Calls the Crisis in Attawapiskat Canada's Katrina Moment
Pam Palmater Says Brave Leadership Spreads Hope: Attawapiskat Takes on the Ultimate Bully
UN envoy criticizes government over Attawapiskat
The United Nations special envoy for aboriginal peoples has criticized Canada's federal government for "the dire social and economic condition" of residents in the beleaguered community of Attawapiskat.
The United Nations Special Rapporteur on the rights of indigenous peoples, James Anaya, issued the following statement in light of the serious situation of the Attawapiskat First Nation, a remote community in northern Ontario, Canada, as well as the alleged generally poor living conditions in aboriginal reserves in the country.
""I have been in communication with the Government of Canada to express my deep concern about the dire social and economic condition of the Attawapiskat First Nation, which exemplifies the conditions of many aboriginal communities in the country."
"Reportedly, systematic underfunding of First Nations exacerbates their already diminished capacity to attend to the social and economic interests of their members. Further, it not does it appear that the Government is responding adequately to requests for assistance.
Moreover, the Government has allegedly been resisting efforts by the Canadian Human Rights Commission to inquire into allegations of discrimination on the basis of national or ethnic origin related to disparities in funding provided to First Nations as compared to non-aboriginal communities, inquiries that have been requested by First Nations themselves."
more..
Source: United Nations December 20, 2011
Attawapiskat a 'deep concern' for UN rights official CBC News December 20, 2011. James Anaya, who reports to the UN's Human Rights Council, said in a statement that he had contacted the Canadian government about "the dire social and economic condition" of the First Nation.
Aboriginal Affairs Minister John Duncan let financing for Attawapiskat housing fall through, say natives
Friday August 10, 2012
OTTAWA—A plan to build much-needed houses in Attawapiskat fell through because of lack of support from Aboriginal Affairs Minister John Duncan, leaders in the troubled northern Ontario aboriginal community revealed Friday.
Acting Chief Christine Kataquapit said an application to Canada's national housing agency for help financing the construction of 30 houses in Attawapiskat was not approved because Duncan refused to sign off on an agreement between Attawapiskat and the Canada Mortgage and Housing Corp. (CMHC).
And Kataquapit said the letter from CMHC ruling out financial support for the housing plan was written Aug. 2, a day after a federal court judge gave the Harper government a black eye over its decision to send a third-party manager into Attawapiskat last year.
The community had applied for support to build houses under CMHC's non-profit, on-reserve housing program, which provides loans to First Nations to construct or rehabilitate rental units. The loans are insured under the National Housing Act and must be guaranteed by Duncan, the minister of aboriginal affairs and northern development.
Read the full story from the Toronto Star http://www.thestar.com/printarticle/1240578
Attawapiskat - O.V.E.R.T Response Jan 2012
Video of A 4 member volunteer team with the Ontario Volunteer Emergency Response Team heads up to Attawapiskat to provide aid to the victims of the recent housing and water disaster.
Blogs and Commentary on Attawapiskat
Community Management
The Commons: Tragedy of numbers Macleans Magazine. November 30, 2011. The Scene. Recently returned from Attawapiskat, Nycole Turmel attempted to enlighten the Prime Minister this afternoon on the situation there. "It's terrible," she said. "It's unbelievable. It's worse than anything you can think of." She described the shacks and the tents and the trailers and moldy mattresses and the lack of heat and water. When, she wondered, staring him down, would the Prime Minister show some leadership and go see so for himself?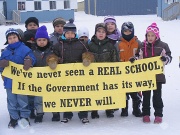 Education
The Attawapiskat First Nation Education Authority manages the schools operating on the Attawapiskat First Nation reserve.
Attawapiskat First Nation Elementary School,PO BOX 15, Attawapiskat, ON P0L 1A0 phone: 705-997-1259. J. R. Nakogee Elementary School was closed on May 11, 2000 because of site contamination and possible health problems that were attributed to a massive diesel leak at the site that occurred in 1979.[19] The students and staff have since been in portables
Vezina Secondary School, PO Box 249, Attawapiskat, ON P0L 1A0 phone: 705-997-2117. The secondary school was founded by John B. Nakogee in 1991 and it was named after Father Rodigue Vezina, a local Catholic priest who has served the community since 1975.
Attawapiskat Press Conference in Ottawa with 13-year Students Speaking Truth to Power video , 13-year old Attawapiskat students call on Minister Chuck Strahl to honour agreeement to build a school. May 28, 2008 Chris Kataquapit, Shannen Koostachin, Solomon Rae.
Shannen's Dream Shannen Koostachin of Attawapiskat First Nation had a dream - safe and comfy schools and culturally based education for First Nations children and youth. She worked tirelessly to try to convince the federal government to give First Nations children a proper education before tragically passing away at the age of 15 years old in 2010. Now it is our turn to carry her dream forward.
Shannen Koostachin "Really Believed that Kids Could Change the World" by Charlie Angus Member of Parliament, Timmins-James Bay
Faith Community
St. Francis Xavier Catholic Church - Fr. Rodrigue Vézina is an Oblate missionary and Pastor supported by Catholic Missions In Canada.
Government Involvement in Attawapiskat
If you care about #Attawapiskat, let Aboriginal Affairs Minister John Duncan know:
e-mail: john.duncan@parl.gc.ca
phone Ottawa: 613-992-2503
phone Mr. Duncan's Riding: 250-338-9381
Health
The Ontario Provincial Government created the "Ontario Aboriginal Diabetes Strategy" in consultation with a steering committee comprised of First Nations to address diabetes health problems. Type 2 diabetes – or adult-onset diabetes – is now a major public health problem in Aboriginal communities. Rates of diabetes are highest in Aboriginal people in the Ontario-Manitoba-Saskatchewan region. In Ontario, the prevalence of diabetes in Aboriginal people is three (3) times that in non-Aboriginal Ontarians (1). Because of the increase in diabetes, Aboriginal people are also developing diabetes-related illnesses (e.g., end-stage renal or kidney disease, retinopathy or loss of vision) more often and at younger ages. The dramatic increase in type 2 diabetes in Aboriginal communities is due to a combination of sedentary lifestyles, diet and genetic susceptibility. If nothing is done to change current trends, within the next 20 years, 27 percent of Aboriginal people will develop diabetes (2).
Sources:
1. E. Bobet, Diabetes Among First Nations People: Information From the 1991 Aboriginal Peoples Survey Carried out by Statistics Canada. Ottawa: Medical Services Branch, Health Canada, 1997.
2. C. Greene, et al., "Projecting Future Diabetes Prevalence in Manitoba First Nations," Proceedings of the 4th International Conference on Diabetes and Indigenous People, San Diego, 1997. Tucson, AZ: Native American Research and Training Center, University of Arizona, 1999.
Helping Attawapiskat
Wesley Prankard
CBC News Posted: Dec 4, 2011 12:24 PM ET
A 13-year-old boy from Niagara Falls, Ont., will be braving the elements to raise money for the Attawapiskat First Nation, which has been facing a housing and infrastructure crisis.
Wesley Prankard says he's trying to sign up 100 other young people to camp alongside him for 48 hours on the Northern Ontario reserve during March break.
Wesley Prankard, second from left, poses with children at the Attawapiskat First Nation in Northern Ontario. Prankard has made three fundraising trips to Attawapiskat and plans his fourth for March. (Courtesy Wesley Prankard) "It's become an annual thing," he told CBC News on Sunday of his latest fundraising campaign, which he hopes will raise $5,000 for Attawapiskat.
"On my first trip, I brought up 24,000 pounds of food and clothing supplies. My third trip was this August. l got to build a playground in Attawapiskat."
Read more at CBC News
http://www.cbc.ca/news/canada/toronto/story/2011/12/04/attawapiskat-plankard-fundraiser.html
Housing
Infrastructure
Attawapiskat finally gets cell phone service CBC News, Apr 12, 2012 "The younger people have taken a real keen interest in having cell phones, especially the texting." Sutherland is the CEO of Attawapiskat Resources Incorporated, the company that brought cellular technology to the remote reserve. The phone service is expected to give business ventures a boost. But Sutherland said it also makes it safer to enjoy traditional activities.
"A lot of people are out on the land still and most people don't have any form of communication to check in at home if something goes wrong," he said. "That's one of the biggest concerns the community has." Right now, First Nation members can purchase pay-as-you-go phones at rates of five cents a minute. Elsewhere on the James Bay Coast, Moosonee has cell phone service — but Fort Albany and Kasechewan do not.
Media
Local television cable services is provided by Attawapiskat Development Corporation.
Radio
FM 89.9 - CKMT, First Nations community radio (relays CKWT-FM, Sioux Lookout)
FM 101.5 - CBCA, CBC Radio One (relays CBCS-FM, Sudbury)
FM 107.1 - CJBA, First Nations community radio (local)
Mining
Canada's Metalex Ventures Ltd MTX.V focuses on developing diamond deposits at Attawapiskat, Kyle Lake and Wawa projects in Ontario. The company had collected 907 tons of kimberlite from two formations, surpassing its expectation of 300 tons. Metalex Ventures recovers 716 diamonds in Ontario; shares jump July 9, 2010 Rueters Canada. "Kimberlites are the rock formation where diamonds can be found. The name kimberlite comes from the town of Kimberly, in South Africa, considered, last century, as the world centre for diamond mining. Kimberly was the site of the first diamonds found in a rock." Natural Resources Canada 2009-03-11
In 1988, a De Beers geologist discovered what is now known as the Victor kimberlite pipe. The Victor Mine site is located 90 kilometres upstream from the village of Attawapiskat (52° 49' 15" latitude, 83° 53' 00" longitude). The mine site has a surface area of 15 hectares extracting 2.7 million tonnes per year for a total of 600,000 carats per year. The mining operation will extract enough muskeg and rock from the ground that the resulting stockpiles will cover approximately 350 hectares of land – an area nearly as big as 300 football fields. The Victor Mine is an open-pit mine and is one of 18 kimberlite pipes discovered on the property, 16 of which are diamondiferous. The open pit mine will descend 200 metres into the ground and will span a kilometre from side to side. Source: The Saga of Victor Mine Ontario Nature Magazine 2007
Money from the mine given to the Attawapiskat community has been pushed into a trust fund the band cannot touch," said Fr. Rodrigue Vézina. According to the Canadian Press, the provincial government gets a 13-per-cent cut of revenues from the DeBeers' mine, while Attawapiskat gets one per cent. Source: Catholic Register
School Secondary