Are you ready to learn?
Why do homework? How can parents and guardians help their child with their school responsibilities?
Quizzes and Glossaries for Students and Teachers What time is it?
Today is Thursday June 1, 2023 at 02:55. Today is a great day to be alive!

Why Do Homework?
From David Spencer's Education Paragon: Helping students develop citizenship, faith, literacy, responsibility and vision
David Spencer's Education Paragon is a free educational resource portal helping David Spencer's secondary school students, their parents and teaching colleagues with understanding, designing, applying and delivering assessment, curriculum, educational resources, evaluation and literacy skills accurately and effectively. This wiki features educational resources for Indigenous Aboriginal education, field trips for educators, law and justice education, music education and outdoor, environmental and experiential education. Since our web site launch on September 27, 2006, online site statistics and web rankings indicate there are currently 1,888 pages and 20,185,651 page views using 7.85 Gig of bandwidth per month. Pages are written, edited, published and hosted by Brampton, Ontario, Canada based educator David Spencer. On social media, you may find David as @DavidSpencerEdu on Twitter, as DavidSpencerdotca on Linkedin.com and DavidSpencer on Prezi. Please send your accolades, feedback and resource suggestions to David Spencer. Share on social media with the hashtag #EducationParagon. Thank you for visiting. You may contact David Spencer here.
The following resources are helpful to parents and teachers:

---
< Home

| Categories | Courses | Educators | Glossary | Images | Literacy | New | Parents | Popular | Search | Students
---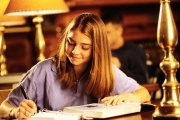 Why Do Homework?
It makes your teachers happy with you.
It makes your parent(s)/guardian(s) happy with you.
Studies show that students who consistently complete their homework achieve higher marks than those who don't.
Your teachers assign homework to help you review and practice the skills and concepts you learned in class. Make homework a habit if you want to succeed at school.
Studying and completing homework is a skill you can learn. Study SMARTER, not HARDER by planning your time and using it well.
Homework gives children tasks they must complete in their own time and so introduces them to the responsibilities of remembering, managing their time, and working independently.
Homework is an integral part of the curriculum and an important tool for helping children to learn.
A good, well-managed homework programme helps children and young people to develop the skills and attitudes they will need, for successful lifelong learning.
Homework also supports the development of independent learning skills, and provides parents with an opportunity to take part in their children's education.
Why Do My Teachers Assign Homework?
Teachers assign homework for many reasons.
Homework can give students extra practice time, apply information learned, and help them expand their knowledge beyond what learned in class.
Assignments are also a good way for students to learn to work independently.
Homework assignments can also help students work on bigger projects and learn how to use other resources such as encyclopaedias, the Internet and public libraries.
When Should You Do Homework?
Work on your homework each day around 4:30 pm or 7 pm.
Use your student planner each block to note your assignments and their due dates.
Schedule a daily study time - the best time for you; ideally the same time each day
Study in 15-30 minute blocks
Take breaks (about 5-10 minutes)
Plan to spend 1-1/2 hours per school night on average (more for tests or major assignments)
Where Should You Do Homework?
a room where everything you need is at hand
a quiet place; away from distractions such as television and phone
well lit place with lighting that helps you see your homework
What are the Materials You Need to Do Your Homework?
pen, pencil
lined paper
computer and printer if required
post your daily timetable and a calendar for noting assignment due dates and tests.
Teachers Should Consider The Following When Assigning Homework
Benefits of Parental Involvement in Their Child's Homework
Resources