Are you ready to learn?
Why do homework? How can parents and guardians help their child with their school responsibilities?
Quizzes and Glossaries for Students and Teachers What time is it?
Today is Wednesday March 29, 2023 at 10:50. Today is a great day to be alive!

Travel and Tourism:A Regional Geographic Perspective (CGG3O) with David
From David Spencer's Education Paragon: Helping students develop citizenship, faith, literacy, responsibility and vision
David Spencer's Education Paragon is a free educational resource portal helping David Spencer's secondary school students, their parents and teaching colleagues with understanding, designing, applying and delivering assessment, curriculum, educational resources, evaluation and literacy skills accurately and effectively. This wiki features educational resources for Indigenous Aboriginal education, field trips for educators, law and justice education, music education and outdoor, environmental and experiential education. Since our web site launch on September 27, 2006, online site statistics and web rankings indicate there are currently 1,888 pages and 20,185,651 page views using 7.85 Gig of bandwidth per month. Pages are written, edited, published and hosted by Brampton, Ontario, Canada based educator David Spencer. On social media, you may find David as @DavidSpencerEdu on Twitter, as DavidSpencerdotca on Linkedin.com and DavidSpencer on Prezi. Please send your accolades, feedback and resource suggestions to David Spencer. Share on social media with the hashtag #EducationParagon. Thank you for visiting. You may contact David Spencer here.
The following resources are helpful to parents and teachers:

---
< Home

| Categories | Courses | Educators | Glossary | Images | Literacy | New | Parents | Popular | Search | Students
---
---

Course Name: Travel and Tourism: A Regional Geographic Perspective
Course Description: This course focuses on travel and tourism as the vehicle for studying selected world regions. Using a variety of geotechnologies and inquiry and communication methods, students will conduct and present case studies that develop their understanding of the unique characteristics of selected world regions; the environmental, cultural, economic, and political factors that influence travel and tourism; and the impact of the travel industry on communities and environments around the world.
Ontario Ministry of Education Curriculum Grades 11 and 12: Canadian and World Studies outline for Travel and Tourism: A Regional Geographic Perspective (CGG3O).
Course Code: CGG3O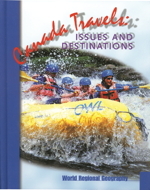 Textbook Used: Canada Travels: Issues and Destinations
Unit 1: Introduction to Travel and Tourism
Welcome
Introductions with your teacher and student peers.
Log into your Google Drive cloud computing space and open the Connections and Expectations page. If you are using Microsoft Office 360, Microsoft OneDrive or another cloud computing service, please ask your teacher to send you a digital version of the Connections and Expectations page.
Maps of the World labelled.
Unit 2: The Significance of the Travel and Tourism Industry
Unit 3: Culminating Unit
Evaluation: Map of the World Test
Culminating Unit Select a topic relating to geography, travel and/or tourism.
Complete a work log entry each time you work on your CU.
CU Topics Selected by Students

The following are some exemplars (student examples) of CU projects.
Unit 4: The Sinister Side of Tourism
Unit 5: Ecotourism
Unit 6: Impact of Tourism on Culture in Urban and Rural Centres
Unit 7: Careers in the Travel and Tourism Industry
Unit 8: Tourism Planning and Marketing
Unit 8: In class activity demonstrating how to construct a survey for tourism planning and marketing
Unit 9: The Caribbean and Cruise Ships and GIS Mapping Skills
Unit 10:Travelling Using Geotechnologies
Summative Assessment