Are you ready to learn?
Why do homework? How can parents and guardians help?
What time is it? When are my units and coursework due?
Today is Monday October 22, 2018 at 10:48. Today is a great day to be alive!

GrammarBook.com
From David Spencer's Education Paragon: Helping students develop citizenship, faith, literacy, responsibility and vision
David Spencer's Education Paragon is a free educational resource portal helping David Spencer's secondary school students, their parents and teaching colleagues with understanding, designing, applying and delivering assessment, curriculum, educational resources, evaluation and literacy skills accurately and effectively. This wiki features educational resources for Indigenous Aboriginal education, field trips for educators, Davids Music Jam, law and justice education, music education and outdoor, environmental and experiential education. Since our web site launch on September 27, 2006, online site statistics and web rankings indicate there are currently 1,878 pages and 14,603,137 page views using 7.85 Gig of bandwidth per month. Pages are written, edited, published and hosted by Brampton, Ontario, Canada based educator David Spencer. On social media, you may find David as @DavidSpencerEdu on Twitter, as DavidSpencerdotca on Linkedin.com and DavidSpencer on Prezi. Please send your accolades, feedback and resource suggestions to David Spencer. Share on social media with the hashtag #EducationParagon. Thank you for visiting.
---
< Home
| Categories | Courses | Educators | Glossary | Images | Literacy | New | Parents | Popular | Search | Students
---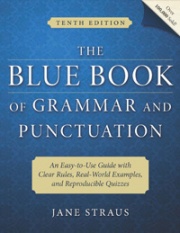 GrammarBook.com
GrammarBook.com is an online resource for helping teachers, students and business leaders use correct grammar in their writing and speaking. GrammarBook.com is based on the book "The Blue Book of Grammar and Punctuation" written by Jane Straus.
"The Blue Book of Grammar and Punctuation" is available in Book or E-Book formats and includes
"The Blue Book of Grammar and Punctuation"
Author: Jane Straus
176 pages
Publisher: Jossey-Bass, a Wiley Imprint
ISBN: 978-0-470-22268-3 - 8 ½ x 11
Buy NOW from Amazon.ca

Book includes:
Who Was Jane Straus?
May 18 1954 to February 25, 2011
Although Jane lost her heroic battle with brain cancer in 2011, she wanted "The Blue Book of Grammar and Punctuation" and the "GrammarBook.com website to survive and flourish in order to serve anyone and everyone seeking to improve English grammar and punctuation skills. Lester Kaufman, her husband of 23 years, along with webmaster, Weblinx Inc., ensure that Jane's legacy lives on.
"Back in 1975, Jane was a 21-year-old undergraduate at the University of California looking for a job as a waitress. One day, she got a call from someone at the State Personnel Board. "Jane, according to one of your professors, you can write well. Can you teach a one-day class in English to state employees?" Too naïve to decline, Jane jumped at the chance to go from Jane Straus, Aspiring Waitress, to Jane Straus, Training Consultant."
"Scouring the library for a book that conveyed the rules of English in, well, plain English, Jane got frustrated. With little time to spare, she wrote the rules her way, made up some exercises, ran off some copies, clipped them together, and showed up for class. Little did she realize that she was creating "The Blue Book of Grammar and Punctuation", which, thanks to the Internet, has become a perennial bestseller on Amazon." <br Source: About the author, Jane Straus http://www.grammarbook.com/jane_straus.asp