Are you ready to learn?
Why do homework? How can parents and guardians help?
What time is it? When are my units and coursework due?
Today is Monday March 1, 2021 at 23:27. Today is a great day to be alive!

Piano
From David Spencer's Education Paragon: Helping students develop citizenship, faith, literacy, responsibility and vision
David Spencer's Education Paragon is a free educational resource portal helping David Spencer's secondary school students, their parents and teaching colleagues with understanding, designing, applying and delivering assessment, curriculum, educational resources, evaluation and literacy skills accurately and effectively. This wiki features educational resources for Indigenous Aboriginal education, field trips for educators, law and justice education, music education and outdoor, environmental and experiential education. Since our web site launch on September 27, 2006, online site statistics and web rankings indicate there are currently 1,883 pages and 19,171,729 page views using 7.85 Gig of bandwidth per month. Pages are written, edited, published and hosted by Brampton, Ontario, Canada based educator David Spencer. On social media, you may find David as @DavidSpencerEdu on Twitter, as DavidSpencerdotca on Linkedin.com and DavidSpencer on Prezi. Please send your accolades, feedback and resource suggestions to David Spencer. Share on social media with the hashtag #EducationParagon. Thank you for visiting. You may contact David Spencer here.
---
< Home
| Categories | Courses | Educators | Glossary | Images | Literacy | New | Parents | Popular | Search | Students
---

David Spencer's Piano Resources
The shortcut to this page is http://piano.davidspencer.ca.

Piano History and Types
Lead a Sing Song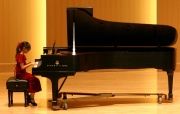 Piano
The acoustic piano is a musical instrument that makes sound through the mechanical movement of a keyboard, hammers and strings. It is used in classical and jazz music for solo performances, ensemble use, chamber music and accompaniment. The piano is also very popular as an aid to composing and rehearsal. Read more at Wikipedia.org
History of piano building in Canada.
The Piano Time Line: A Chronological History
Types of Pianos
The Piano Glossary includes terms used by knowledgeable piano tuners and rebuilders. Sources: Forte Piano Company, Detroit, Michigan, USA.
Piano Age
History of the Piano
Square Grand Pianos For nearly 150 years, Square Grand Pianos were the Piano of choice in both America and Europe
View photos of restored antique pianos:
Find the Serial Number of a Piano
Once you find the make and serial number of a piano, you will be able to find the year the piano was made.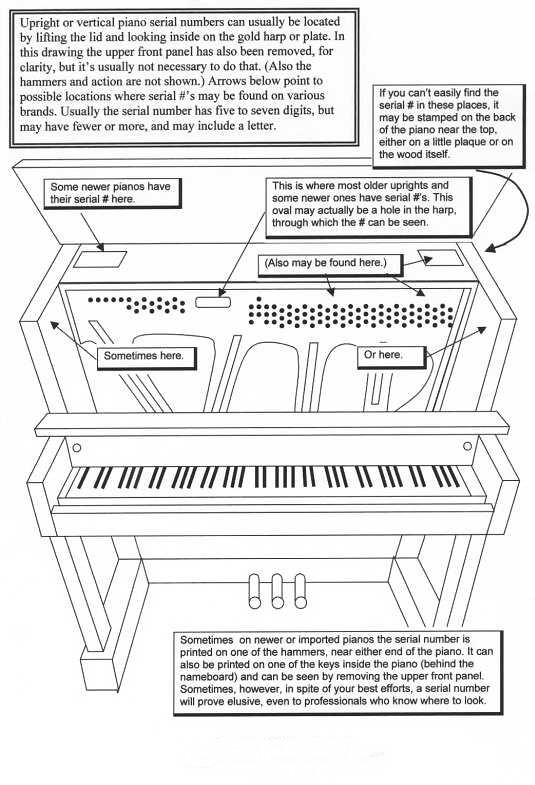 How Old is Your Piano?
How Old is Your Piano? from bluebookofpianos.com. The age of your piano is determined by the serial number. You can find the serial number on the inside of your piano on the iron frame near the top of the strings and tuning pins.
How Old is Your Piano? from Antique Piano Shop. "The most accurate way to determine the age of your instrument is by its brand name and serial number. There are a handful of historical publications that are used in the industry to cross reference brand names with serial numbers in order to target dates of manufacture."
Pierce Piano Atlas was first published in 1947 and is now in its 12th edition. Each new edition is authoritatively expanded and updated to include new information on current manufacturers as well as additions to the history of manufacturers long out of business. More than 12,000 names are listed, providing ready reference to serial numbers, dates of manufacture, factory locations, a brief history of many manufacturers and other pertinent information.
Recommended Piano Dealers
The following are recommended piano dealers in the Toronto GTA.
Piano Dealers
The following are piano dealers in the Toronto GTA. Use at your own risk.
Best Piano located at 495 Champagne Dr., Toronto, Ontario, M3J 2C6 phone: 647-247-8944 Piano brands sold include Google Map.
Grand Touch Piano Restoration Dwight Pile operates Grand Touch Piano Restoration in Elora, Ontario N0B 1S0. phone: 519-831-6635 He sales some used painos. Is the primary rebuilding facility for Yamaha Music Canada.
Music Gallery located at 1800 Appleby Line, Burlington, ON L7L 6A1 Piano brands sold include Cable Nelson and Yamaha. phone: 905-639-4465 Google Map
MusicM located at 7035 Maxwell Rd, Mississauga, ON L5S 1R5 phone: 416-558-1088 Piano brands sold include Google Map
Ontario Pianos located at 1292 Eglinton Ave East, Mississauga, ON L4W 1K8 phone: 905-625-1616 or1-855-625-1616 Piano brands sold include Google Map
Burlington, ON L7L 6B5 phone: 1-888-742-6681 Piano brands sold include Young Chang, Niemeyer, Hobart M. Cable, Sherlock Manning and used Yamaha, Kawai and Samick.
The Piano Studio located at 69 Davis Drive, Newmarket ON L3Y 2M9 phone: 905 895 1844. Sells Roland and Yamaha digital pianos.
Piano Examples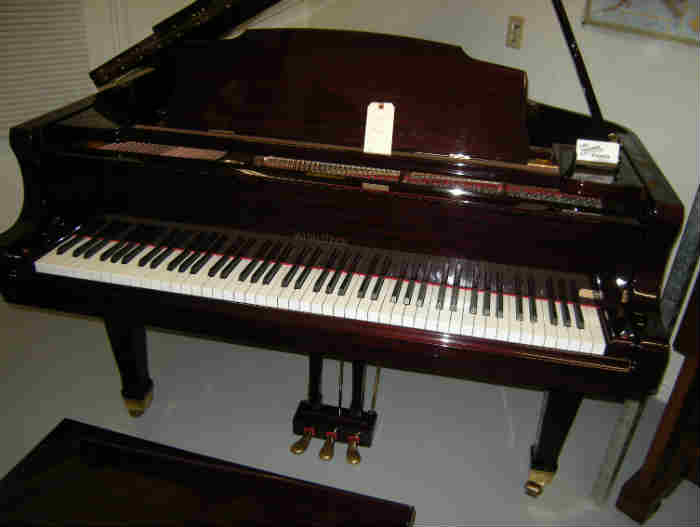 This 5" 2' G-452 Wurlitzer piano was made by Young Chang in 1989. The serial number is 2056462. For a number of years, Young Chang made Wurlitzer brand verticals and grands in Korea which were marketed in the United States by Baldwin Piano & Organ. The Wurlitzer brand pianos were reportedly identical in construction to their Young Chang brand counterparts. The Wurlitzer electric piano was used on these songs.
Piano Tuning
Piano Rebuilders, Technicians and Tuners
Gerber Pianoworks Brampton and Orangeville, Ontario phone: 416-821-7084 or 519-942-0868 Contact Ted Gerber
Lee Tocher Piano Erin, Hillsburgh, Ontario phone:519-855-4984 Contact Lee Tocher.
Piano Regulation
Regulation is the adjustment of the mechanical parts that make up the action, keyboard, and trapwork, to compensate for wear in the cloth, and dimensional changes in the wooden parts. Regulation ensures that a piano is capable of producing a uniform touch, fast repetition, and wide dynamic range. With over thirty-five points of adjustment per note in a grand piano and twenty-five in an upright, regulation is a skilled job that takes a considerable amount of time to complete.
A need for regulation may show its ways for many ways. Inability to execute fast passages or legato touch may mean your piano needs regulating, rather than that you need to practice more, and bubbling or blocking hammers can destroy the tone of any instrument. An unregulated piano will not only perform poorly, but may have a shorter life span. Unnecessary and uneven wear develops as parts become misaligned and those that meant to push start to punch; and hammers break if they are unable to escape the pianist's finger pressure before they hit the string. Source: Forte Piano Company, Detroit, Michigan, USA
Caring for a Piano
Read your piano manufacturer's manual and follow all advice. Have a piano technician check over, voice and tune your piano.
The cabinet can be cleaned with a damp T-shirt. Use plain water. Ask your technician how to polish your piano. A piano that is not tuned and played will lose value. A piano that is tuned faithfully and played regularly will sound better and retain more value as an instrument.
Cleaning the soundboard is best done with a vacuum cleaner hose held *just above the strings* on a grand piano. Don't touch anything with the hose. The back of an upright can be carefully vacuumed with a brush attachment. Small dry paint brushes can be used in conjunction with vacuuming in the corners if your technician has given you some training. Please have the technician remove foreign objects from your piano. The bottom of an upright is where the dust settles.
Controlling moisture is the main thing. Installing a humidifier system with a "humistat" can be of great help. These contraptions fit inside the piano and maintain a constant level of around 40% relative humidity by adding or subtracting moisture as required. Source: Master Piano Technicians
One great favor you can do for your piano is climate control. Whether by room or whole house, stable temperature and humidity will help keep a piano in good shape. Source: Pete Summers Piano Tuning
"Tuning means correcting the pitch of every note by retightening the strings. Each piano string is normally stretched to a pressure of about 90 kilograms (198pounds). Eventually, though, it will stretch further with use and lose some of its tension, causing the piano to lose its correct pitch. The strings need to be tuned a minimum of twice a year to restore them to their proper tension.
Adjustment involves the entire piano action, keyboard and pedal movements. Proper adjustment is especially important for grand pianos. Whether the piano will perform properly or not depends on how accurately the adjustment is made." Source: * Yamaha Canada.
"The second most important thing you can do for your piano after tuning, is to control the humidity in the environment that the piano is being kept in. There isn't a piano made that will stay in tune if it is exposed to dramatic swings in humidity. The parts of a piano are made of metal, felt and wood. The cast iron plate and steel strings are not greatly affected by high humidity or extreme dryness. But the felt and wood components will swell with rising humidity or shrink when the air dries out." Source: Thomson Lawrie Piano Technician.
Piano Repair