Are you ready to learn?
Why do homework? How can parents and guardians help?
What time is it? When are my units and coursework due?
Today is Friday September 25, 2020 at 20:59. Today is a great day to be alive!

Difference between revisions of "Piano"
From David Spencer's Education Paragon: Helping students develop citizenship, faith, literacy, responsibility and vision
Line 138:
Line 138:
 
 
 

* '''[http://www.thepianostudio.com The Piano Studio]''' located at 69 Davis Drive, Newmarket ON L3Y 2M9 phone: 905 895 1844. Sells Roland and Yamaha digital pianos.

 

* '''[http://www.thepianostudio.com The Piano Studio]''' located at 69 Davis Drive, Newmarket ON L3Y 2M9 phone: 905 895 1844. Sells Roland and Yamaha digital pianos.

−

 
−

==Piano Brands==

 
−

There are many [http://en.wikipedia.org/wiki/List_of_piano_brand_names brands of pianos] made in the world today. Some piano companies have gone out of business after many years. Larry Fine has a [http://www.pianobuyer.com/spring11/brand-index.html list of piano brands]. "In the end each piano has to be judged on its own merits, but a well known manufacturer is a good place to start. One primary reason for putting a great deal of skill and effort in restoring a piano is that the technology of pianos has not in any significant way evolved since the turn-of-the-century. Many older pianos have irreplaceable cabinetwork, which can make them much more attractive instrument for restoration. Unfortunately pianos in general have not enjoyed the appreciation in value of other antiques and collectibles. The decision to restore a family piano should be made in most Instances not because the piano may go up in value, but because the piano when properly restored it can be enjoyed for many years to come. " - [http://www.pianoexperts.com/html/Restorations/manufacturer.html Robert Lowrey's Piano Experts], Toronto, Ontario

 
−

 
−

 
−

 
−

 
−

 
−

* '''Baldwin''' built in [http://en.wikipedia.org/wiki/Cincinnati Cincinnati], Ohio, USA since 1857. The [[Baldwin Piano Company]] is the largest US-based manufacturer of keyboard instruments, most notably pianos. It is now a subsidiary of the [[Gibson Guitar Corporation]]. The founder Dwight Hamilton Baldwin started the company in 1857. When Baldwin died 1899 he left his estate to fund Christian missionary causes.

 
−

 
−

 
−

 
−

* '''[http://www.bechstein.de/Default.aspx? Bechstein]''' built in [http://en.wikipedia.org/wiki/Berlin Berlin], Germany. "C. Bechstein Pianofortefabrik AG (FWB: BEP) (also known as Bechstein) is a German manufacturer of pianos, highly regarded for their concert grand pianos as well as upright pianos. Carl Bechstein founded the company in 1853. Artcase pianos were commissioned by interior designers for royal palaces and fancy mansions. Artists and craftsmen were hired by C. Bechstein to make special pianos decorated with gold, hand-carved details, and hand-painted art on the piano case. The Beatles used a Bechstein concert grand piano for recording Hey Jude and the White Album tracks Dear Prudence, Honey Pie, Savoy Truffle and Martha My Dear, I Want You (She's So Heavy) for the album Abbey Road, all at Trident Studios.Elton John recorded "Your Song" and many other tracks on a handmade Bechstein concert-sized instrument that was over one hundred years old at Trident Studios in London. Oscar Peterson played and owned a Bechstein throughout much of his career. ([http://en.wikipedia.org/wiki/C._Bechstein_Pianofortefabrik#Performers Wikipedia].<br>How old is my [http://4tepiano.com/age/Bechstein.html Bechstein Piano]?

 
−

 
−

 
−

 
−

* '''[http://www.thecanadianencyclopedia.com/articles/emc/bell-piano-and-organ-co Bell Piano and Organ Co.]''' was established by by Robert and William Bell in 1864 in Guelph, Ontario  The Bell piano had a distinctive full sound. Pianos produced in the period from 1900 to 1920 were as good as the best uprights made anywhere in the world. Strung with heavier gauge strings than most pianos of equivalent size, the builders added a very heavy frame to take the extra tension exerted by the heavier strings. The grand pianos that were produced were mediocre. Due to the rural nature of Canadian society in early part of the Twentieth Century the market for grand pianos was quite small. The firm also produced pianos and organs under the brand names of 'Diploma' and 'Guelph'. Bell built a full line of pianos and reed organs until the turn-of-the-century era. By the first part of the 20th Century, the firm had all but discontinued organ manufacturing and added player pianos to their product line. Around 1928, the firm was sold to John S. Dowling of Brantford, Ontario. In 1934, Lesage Pianos Ltd of Quebec acquired the rights to the Bell name. They produced pianos under the Bell brand in the 1960's and 70's. Sources: [http://www.pianotech.ca/bell-pianos.htm Thomas Lawrie], [http://www.thecanadianencyclopedia.com/articles/emc/bell-piano-and-organ-co History of Bell Pianos] by Thomson Lawrie in the Canadian Encyclopedia and [http://www.antiquepianoshop.com/online-museum/bell-canada/ The Antique Piano Shop].

 
−

 
−

 
−

 
−

* '''[http://www.boesendorfer.com/ Bosendorfer]''' built in  [[Vienna]], [[Austria]] "Each Bösendorfer grand piano is the product of not only over a whole year's work but also expertise passed down from generation to generation since the company was founded in 1828. Our focus is on highest quality. This applies to the materials as well as for the competence of our highly trained piano makers." A Bosendorfer requires a year to be made and is virtually entirely made by hand. The Bosendorfer company is now owned by Yamaha ([http://www.forbes.com/2007/11/30/bosendorfer-bawag-yamaha-markets-equity-cx_jc_1130markets04.html Forbes, 2007], [http://investing.businessweek.com/research/stocks/private/snapshot.asp?privcapId=1554618 BusinessWeek.com, 2008]). More from Larry fine at [http://www.pianobuyer.com/spring11/162.html PianoBuyer.com].

 
−

 
−

 
−

 
−

* '''[http://www.steinway.com/pianos/boston/ Boston]''' is a mid-price ranged piano designed by [http://www.steinway.com/ Steinway & Sons]. They are manufactured in the Kawai piano factory in Hamamatsu, Japan. These pianos are manufactured with Steinway's wider tail design and patented Octagrip pinblock. Steinway allows only its authorized Steinway dealers to carry Boston and Essex pianos.[

 
−

 
−

 
−

 
−

* '''[http://www.brodmann-pianos.at Brodmann]''' Joseph Brodmann pianos are made in Austria or in China from entirely German components overseen by Austrian craftsmen. Ignaz Bösendorfer studied in the workshop of Joseph Brodmann from the age of 19 years, where he finished his apprenticeship. In 1828 Ignaz Bösendorfer the most famous of all Austrian piano builders took control of the Joseph Brodmann piano workshops which was then considered to be the most innovative and modern piano factory in Europe. "Joseph Brodmann was best known for his development work on piano soundboards. He is credited with greatly improving the necessary stiffness of the soundboard, so needed to withstand the increased string tensions demanded by the pianists of the day and therefore preventing the soundboard from tearing or splitting."

 
−

 
−

 
−

* '''[http://www.steinway.com/pianos/essex/ Essex]''' piano is designed by [http://www.steinway.com/ Steinway & Sons]. They only allow its authorized Steinway dealers to carry Boston and Essex pianos. Essex are entry-range market and are cheaper than Steinway and Boston pianos. Essex are made at the Pearl River piano factory in Guangzhou, China. Essex pianos incorporate some of the features of Steinway pianos too like a wider tail design, an all-wood action with Steinway geometry with rosette-shaped hammer flanges, and reinforced hammers with metal fasteners. read more from [http://www.pianobuyer.com/spring11/166.html Piano Buyer].

 
−

 
−

 
−

 
−

* '''[http://www.estoniapiano.com/ Estonia]''' The Estonia Piano Factory was founded in 1950 by Ernst Hiis in Tallinn, [http://en.wikipedia.org/wiki/Estonia Estonia].  "The bass strings manufactured by our factory and the accompanying structural solutions give the piano its sound characteristics. In order to acquire the necessary depth for romantic music, the body of a Estonia piano is thick and made from strong and rigid wood. The rigid body keeps the energy in the soundboard. The varied thickness in the soundboard design, the correct soundboard crown, and the accurate placement of the bridge - all of these are a part of the secrets of the Estonia sound." They use the Renner actions, "chosen for their high performance by professional pianists. Louis Renner GMBH & Company, founded in 1882 in Stuttgart, Germany, makes their actions according to our specifications."

 
−

 
−

 
−

 
−

 
−

* '''[http://www.fazioli.com Fazioli]''' Paolo Fazioli said that when he started thinking about making a piano from scratch in the late 1970s, his initial impulse wasn't to bring the piano home to Italy, where it had been invented.  As an engineer and classically trained pianist himself, he wanted to accomplish something different. He wanted to make a piano that had an "Italian sound and voice. "I wanted one piano with sound clear, elegant, powerful and full of colour. This was my idea."<br>"[http://www.associatedcontent.com/article/563659/fazioli_the_best_grand_piano_in_the.html Many Artists Say Fazioli Grand Pianos are the Best]" <br>[http://www.merriammusic.com/blog/the-worlds-most-exclusive-pianos-a-shift-from-steinway-to-fazioli.htm A Shift from Steinway to Fazioli]<br>"[http://www.canada.com/vancouversun/news/arts/story.html?id=2d4591a3-a8b9-42da-a029-0f813dd34c7b World's most expensive piano is gaining converts]"

 
−

 
−

 
−

 
−

 
−

* '''Heintzman & Co. Ltd. Piano''' manufacturing and retailing business was based in Toronto 1866-1978 and relocated in Hanover, Ont, 1978-1986 under the amended name Heintzman Ltd. It was founded by Theodore August Heintzman (b Theodor August Heintzmann, Berlin, 19 May 1817, naturalized Canadian 1886, d Toronto 25 Jul 1899 ([http://www.mountpleasantgroup.com/new/interest/filey/archives/heintzman see Plot 1, Lot 10 Mount Pleasant Cemetery, Toronto]) who had been apprenticed to the piano-building trade about 1831.  Henry E. Steinway came to the USA in the same year. It is not likely that Heintzman spent all his Berlin years in the piano trade, for various biographical sketches refer to him as a machinist, an instrument-maker, and a cabinet-maker, and one source even claims that he drew the patterns for the first locomotive built in his native city. See the Patent no. 2915 [http://www.collectionscanada.gc.ca/innovations/023020-2430-e.html "Improvements on Piano-Fortes," Theodore A. Heintzman] Filing year 1873. By 1890, the firm was one of Toronto's largest manufacturing concerns, employing more than 200 craftsmen and producing 1000 pianos per year. There were 18 branch stores and 13 distributors, from coast to coast, and the export trade was significant. Two competing companies were acquired when their heads retired in 1927: that of Theodore August's nephew Gerhard Heintzman, and the Nordheimer Piano & Music Company. <br>In January 1981 Heintzman Ltd was sold by the family to Sklar-Peppler Inc. of Hanover, Ontario, and was operated by Sklar-Peppler as a subsidiary under the Heintzman Ltd name; it redesigned, rescaled and re-engineered both upright and grand pianos, and by 1985 750 uprights and 40-50 grands were produced annually. In 1986 The Music Stand, an Oakville-based franchise music retail chain, purchased from Sklar-Peppler (who retained the Hanover factory.property) the patents and trademarks of Heintzman Ltd., as well as the remaining inventory, which it marketed. However in 1990 a Federal Court judge ruled that it could not place the Heintzman nameplate on pianos built in South Korea and the USA, which it imported for sale in Canada."- [http://www.thecanadianencyclopedia.com/index.cfm?PgNm=TCE&Params=U1ARTU0001587 Encyclopedia of Music in Canada]. [http://www.pianotech.ca/heintzman.html More info from Thomas Lawrie Piano Technician]. More info from [http://en.wikipedia.org/wiki/Heintzman_%26_Co. Wikipedia]. See [http://www.hzmpiano.com/profile.aspx?page=history Heintzman & Co. Ltd. History] and [http://www.antiquepianoshop.com/online-museum/heintzman/ original Heintzman & Co. Ltd. advertisements] from The Antique Piano Shop in Friendsville, Tennessee. [http://www.hzmpiano.com/techinfo.aspx?page=howold How old is my Heintzman & Co. Ltd. Piano piano]?

 
−

 
−

 
−

*'''[[Heintzman Piano|Buy a Used Heintzman & Co. Ltd. Piano]]'''

 
−

 
−

 
−

 
−

* '''[http://hzmpiano.com/profile.aspx?page=greets Heintzman Piano Company]''' purchased the original drawings, scale designs and production equipment from the estate of Heintzman & Co. Ltd. Piano. The factory was established in  Beijing, China in August 1989. Heintzman Piano Company is a totally independent joint-venture company owned by Chinese and Canadian shareholders.

 
−

 
−

 
−

 
−

* '''[http://bechstein.com/en/upright-and-grand-pianos/whoffmann.html W. Hoffmann]''' are made by C. Bechstein Europe Ltd. (former Bohemia Piano Ltd.), Hradec Králové, Czech Republic. In the early 1990s, Bechstein acquired the names and factories of Euterpe, W. Hoffmann, and Zimmermann. Pianos with these names are currently being sold in Europe, but only W. Hoffmann is sold in North America.

 
−

 
−

 
−

 
−

 
−

* '''[http://www.kohlerandcampbell.com/ Kohler and Campbell]''' are manufactured in Indonesia by Samick (SMC). Originally, Charles Kohler and John Calvin Campbell joined forces in New York in 1896 to create the Kohler & Campbell Industries, Inc.

 
−

 
−

 
−

 
−

* '''[http://www.knabepianos.com/ Knabe]''' is made in Korea "after collaboration with famed European manufacturer Bechstein, they represent the highest standard in all of Asia". Today, the WM. Knabe is the premium piano for Samick Music Corporation. Originally, was founded by Wilhelm (William) Knabe who was born in Kreuzburg, Germany in 1803. Knabe learned the art of cabinet and piano making through apprenticeships, dedication and hard work. Then he immigrated to Baltimore, Maryland, USA and built high-quality grands, uprights, and squares. A WM. Knabe piano was used for the official opening of Carnegie Hall in 1891. In 1926, Knabe was chosen to be the official piano of the New York Metropolitan Opera.

 
−

 
−

 
−

 
−

 
−

* '''[http://masonhamlin.com Mason & Hamlin]''' Founded in 1854 in Boston, Massachusetts, they first worked on a new instrument called an organ harmonium. named after Henry Mason, a pianist and son of Lowell Mason (considered as the "Father of American church music"), and Emmons Hamlin, an inventor and mechanic. In 1930, due to economic problems, Mason & Hamlin became a part of the Aeolian American Piano Company. They started manufacturing Mason & Hamlin pianos in 1945 at East Rochester, New York, the location of the Aeolian American plant. The company changed ownership several times, filing for bankruptcy in 1995. A year later, Gary and Kirk Burgett, brothers and owners of PianoDisc, bought the company. The Burgetts now own and run the Mason & Hamlin piano company. Gary Burgett is a music educator and pianist while Kirk is a technician and piano rebuilder. Source: [http://masonhamlin.com/company/the-golden-age-of-the-piano/ masonhamlin.com]

 
−

 
−

 
−

 
−

* '''Mason & Risch''' was established in 1871 in Toronto by the former A. & S. Nordheimer accountant Thomas G. Mason, with Vincent M. Risch and Octavius Newcombe. From 1871 to 1877 it imported and sold music and instruments. Risch supervised piano tuning and repairs. The first piano was built in 1877. A year later the Mason-Risch-Newcombe partnership was dissolved, and Mason & Risch continued their business association, developing a cross-country retail chain (which later included the distribution of records and talking machines) and making extensive sales abroad.  In appreciation for the piano, Liszt sent Mason & Risch a life-size portrait of himself in 1881. By 1900 the company had built some 20,000 pianos; by 1950, over 65,000.<br> Their motto "Great Is The Privilege Of Achievement" reflected the craftsmanship of the company. The upright pianos that Mason & Risch produced from the turn of the century into the 1920's stand as a fine examples of the best of the piano makers art. The pianos of this era featured fine cabinetry. Many of their uprights had full agraffes right up to the last note in the treble section. This is a feature that is normally only found in grand pianos and they are usually only found in the mid section of the piano. <br>Some of the Mason & Risch grand pianos made in the first half of the Twentieth Century were fine musical instruments and are good candidates for rebuilding. In 1948 Mason & Risch was sold to Winter & Co. a division of the American giant, Aeolian Mfg. USA but continued to manufacture pianos in Toronto under the Mason & Risch name. The cross-Canada retail network was terminated with the closing in 1949 of the Vancouver outlet, but that same year Mason & Risch (Winter & Co) bought Sterling Action & Keys Co of Brantford, Ont. In 1959 the Winter family purchased the controlling interest in the US Aeolian Corp and set up Aeolian of Canada, a holding company for Mason & Risch. In 1969 Mason & Risch purchased the George Dansereau & Sons Lumber Mill in Grenville, Que. In 1971 the Sterling Action & Keys Co was closed, and in 1968 the Toronto factory was moved to new premises in Scarborough, from which it continued to manufacture Mason & Risch uprights until the early 1980s. After 1950, however, all grand and player pianos were manufactured in the USA and exported (to Canada and elsewhere) by Aeolian. Quality fell sharply by the mid 1950's under the new management . By the 1970's they had slipped to the point of producing pianos that were more pieces of furniture than musical instruments. By the time they ceased operations in the 1980's there were few in the piano business that were sorry to see them go, especially piano technicians. <br>Mason & Risch also produced pianos under - Canadian Piano Company, Cameo, Cecilian, Chopin, Classic, Eaton, Gerhard, Ennis, Haddon Hall, Henry F Miller, Henry Herbert, Harmonic, Homer, Kreisler, New Scale Williams, Mozart, Schubert, Steinbach and Sterling. They also distributed Hallet & Davis, Harrington, Kranch & Bach, Mehlin & Son, Preston and Wadsworth. Sources: [http://www.thecanadianencyclopedia.com/articles/emc/mason-risch The Canadian Encyclopedia -Historica-Dominion] and [http://ontariopianos.com/mason_and_risch_piano.aspx Ontario Pianos Inc.] and [http://www.pianotech.ca/mason-risch.htm Thomson Lawrie Piano Technician].

 
−

 
−

 
−

 
−

* '''[http://www.schimmel-piano.de/index.php?id=63&L=1 May Berlin]''' is manufactured in China according to [http://www.schimmel-piano.de/ Schimmel] specifications and standards. The company says it sends soundboard wood and hammer felt for grand pianos to the factory in China. When completed, the pianos are inspected in the factory by a top Schimmel technician who travels to China every few weeks.

 
−

 
−

 
−

 
−

* '''Nordheimer Piano & Music Company Limted''' "began in Kingston, Ontario, when brothers Abraham and Samuel Nordheimer opened a piano dealership in 1842. A few years later they moved to Toronto, and quickly became one of the Dominion's top dealers of sheet music world-class pianos. Starting in 1858, Nordheimer was Canada's official seller of Steinway pianos, and the two remained associated with each into the 20th Century. In the late 1880s Nordheimer began manufacturing their own pianos. By 1910 Nordheimer manufactured 11,000 pianos in Canada to  21,500 by 1912 When Samuel Nordhiemer died in 1912 his estate was worth 1.5 million dollars. In 1927 Heintzman purchase the company and produced Nordheimers until the mid 1960'a. Heintzman's top pianos were produced under the "Heintzman & Company" brand, with the "Gerhard Heintzman" brand being next, then the "Nordheimer" brand. Brands that were produced for them, and sold with a "From Heintzman & Company" decal were Gerhard, Weber, Stevenson. Their Junction factory remained in use, however, manufacturing pianos under the Nordheimer name for Heintzman and Co., another prominent Toronto-based piano manufacturer. Sources disagree as to when Heintzman ceased the Nordheimer line, with the latest date given being 1960. It is believed that a total of 27,846 Nordheimer pianos were produced, the bulk of them at the Junction factory. " Source: [http://breakingprojects.com/junctioneer/2010/03/26/nordheimer-piano-music-co-history-article-with-exclusive-image/ breakingprojects.com] and [http://www.thecanadianencyclopedia.com/articles/emc/a-s-nordheimer-co thecanadianencyclopedia.com]

 
−

 
−

 
−

 
−

* '''[http://perzinacanada.com Perzina]''' Gebr. Perzina has been making pianos since July 1, 1871 in Lenzen, Germany

 
−

 
−

 
−

* '''[http://www.prambergerpianoco.com/ Pramberger]''' Joseph Pramberger founded the company. Today Pramberger is made by Samick Musical Instrument Mfg. Co. Ltd., Inchon, South Korea; and Bogor, West Java, Indonesia.

 
−

 
−

 
−

 
−

* '''[http://www.smcmusic.com/ Samick]''' was founded in 1958 as a distributor of Baldwin pianos. Pianos produced by Samick with the Samick and Kohler & Campbell labels are distributed by Samick's wholly-owned U.S. subsidiary, Samick Music Corporation. Hyundai and Maeari pianos are purchased directly from the Samick factory in Korea by Hyundai and distributed by North American Music. D.H. Baldwin pianos are purchased from the Samick factory in Korea by Baldwin Piano & Organ and sold through Baldwin dealers. Samick also makes Otto Altenburg pianos for a piano dealer of the same name in Elizabeth, NJ; Bernhard Steiner pianos for a dealership of that name in Dallas, TX; Grinnell Bros. pianos for Hammell Music, a Detroit‑ area piano dealer; and Schultz & Sons pianos for a dealer of that name in New York City. Source: [http://www.bluebookofpianos.com/asian3.html bluebookofpianos.com]. <br>How old is my [http://4tepiano.com/age/Samik.html Samik Piano]?

 
−

 
−

 
−

 
−

* '''[http://www.sauter-pianos.de/ Sauter]''' Johann Grimm, the founder of the company, learned the trade of piano making from Johann Andreas Streicher in Vienna, who built Beethoven´s instruments. The Sauter piano firm was founded in 1819 by Johann Grimm, stepfather to Carl Sauter I, and has been owned and managed by members of the Sauter family for six generations, currently by Ulrich Sauter. The factory produces about 800 vertical pianos and 120 grand pianos a year in its factory in the extreme south of Germany, at the foot of the Alps. Structural and acoustical parts are made of high-quality woods, including solid Bavarian spruce soundboards and beech pinblocks. Actions are made by Renner, and Sauter makes its own keys. Sauter pianos are especially known for the variety of finishes and styles in which they are available, many with intricate detail and inlay work. It is common to find such rare woods as yew, burl walnut, pyramid mahogany, and genuine ebony in the cabinets of Sauter pianos, as well as special engravings, which can be customized to any customer's desires.  Source: [http://www.pianobuyer.com/spring12/188.html pianobuyer.com]<br> How old is your [http://4tepiano.com/age/Sauter.html Sauter piano]?

 
−

 
−

 
−

* '''[http://www.schimmel-piano.de/ Schimmel]''' is Germany's largest piano maker and the best selling German brand. Wilhelm Schimmel established his own workshop in Leipzig and produced his first piano at early 1885. In 1927, his son Wilhelm Arno Schimmel took over the management of the company and relocated the site to Braunschweig (Brunswick). Schimmel uses 300 year-old mountain spruce for their soundboards: Schimmel is the official piano of the Toronto Symphony Orchestra's Music Director, Peter Oundjian.<br> How old is my [http://4tepiano.com/age/Schimmel.html Schimmel Piano]?

 
−

 
−

 
−

 
−

* '''[http://www.pianotech.ca/sherlock-manning.htm Sherlock-Manning]''' was last Canadian piano company to go out of business (circa 1991). The pianos were built in Goderich, Ontario, then London, Ontario. A new owner began manufacturing the pianos in Japan and selling them from Oakville. Read more from [http://www.pianotech.ca/sherlock-manning.htm Thomson Lawrie Piano Technician].

 
−

 
−

 
−

 
−

* '''Starr Piano Company''' was established in  Richmond, Indiana in 1872.  The pianos were manufactured under the labels of Cumberland, Duchess, Gennett, Krell, Minum, Tayser, Royal, Pullman, Remington, Richmond, Coronado, Schmoller & Mueller and Starr. [http://starrgennett.org/stories/history/1.htm History of the Starr Piano Company]

 
−

 
−

 
−

 
−

 
−

 
−

 
−

* '''[http://www.steinway.com/ Steinway & Sons]''' built in Long Island City, [[New York]], [[United States of America|U.S.A.]] since 1853. Some [http://www.steinway.com/artists artists who play Steinway & Sons] pianos. Some [http://steinwaypianogallery.ca/steinway-schools schools, colleges and universities] that use Steinway & Sons pianos. <br>How old is my [http://4tepiano.com/age/Steinway-Sons.html Steinway & Sons Piano]?

 
−

 
−

 
−

 
−

 
−

 
−

* '''[http://www.qrsmusic.com/storyclark.asp Story & Clark] were originally made in USA since 1857. Today they are made by Samick Musical Instrument Mfg. Co. Ltd., in Bogor, West Java, Indonesia.  Story & Clark pianos and player piano now comes standard with PNOscan, a state-of-the-art MIDI optical sensor strip invisibly installed under the keys, as well as discretely placed USB and MIDI ports. Story & Clark pianos give you the ability to connect with new MIDI devices, personal computers and the Internet and take advantage of new technology as it develops. QRS was founded in 1900 by Melville Clark (of Story & Clark piano fame) who developed the player piano as we know it today. QRS supplied music rolls to the player piano market, with production peaking in 1927. In 1986, QRS began focusing on new technologies, and in 1989 released its first digital retrofit player piano kit under the Pianomation™ name.

 
−

 
−

 
−

 
−

* '''[http://www.schimmel-piano.de/index.php?id=62&L=1 Vogel]''' is made by German manufacturer [http://www.schimmel-piano.de/ Schimmel] in Kalisz, Poland.

 
−

 
−

 
−

 
−

* '''[http://ca.yamaha.com/en/products/musical-instruments/keyboards/ Yamaha]''' built in [http://www.yamaha.co.jp/english/product/piano/index.html Japan]. Yamaha began circa 1900 when a young entrepreneur named Torakusu Yamaha set out to craft a high-quality reed organ. Before long, the company he founded had not only gone on to manufacture Japan's first piano, it had also gained recognition abroad: In 1904, a Yamaha piano and organ were awarded an Honorary Grand Prize at the St. Louis World's Fair. <br>How old is my [http://4tepiano.com/age/Yamaha.html Yamaha Piano]?

 
−

 
−

 
−

 
−

* '''[http://www.youngchang.com/ Young Chang]''' is a Korean manufacturer of pianos and industrial wood working machinery, headquartered in Incheon, South Korea. Young Chang also currently holds 50% of the Korean piano market. It produces and markets the Bergmann, Weber and Pramberger models, and used to manufacture the Essex line for Steinway & Sons. Report from [http://www.bluebookofpianos.com/asian3.html bluebookofpianos.com]. The [http://en.wikipedia.org/wiki/Young_Chang Wikipedia entry].

 
−

 
−

 
−

 
−

* [http://www.bluebookofpianos.com/euro1.htm Other European Piano Companies]

 
 
 
 

==Piano Examples==

 

==Piano Examples==
---
Revision as of 16:20, 26 May 2012
David Spencer's Education Paragon is a free educational resource portal helping David Spencer's secondary school students, their parents and teaching colleagues with understanding, designing, applying and delivering assessment, curriculum, educational resources, evaluation and literacy skills accurately and effectively. This wiki features educational resources for Indigenous Aboriginal education, field trips for educators, law and justice education, music education and outdoor, environmental and experiential education. Since our web site launch on September 27, 2006, online site statistics and web rankings indicate there are currently 1,883 pages and 18,665,188 page views using 7.85 Gig of bandwidth per month. Pages are written, edited, published and hosted by Brampton, Ontario, Canada based educator David Spencer. On social media, you may find David as @DavidSpencerEdu on Twitter, as DavidSpencerdotca on Linkedin.com and DavidSpencer on Prezi. Please send your accolades, feedback and resource suggestions to David Spencer. Share on social media with the hashtag #EducationParagon. Thank you for visiting.
---
< Home
| Categories | Courses | Educators | Glossary | Images | Literacy | New | Parents | Popular | Search | Students
---
The shortuct to this page is http://piano.davidspencer.ca.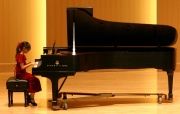 Piano
The acoustic piano is a musical instrument that makes sound through the mechanical movement of a keyboard, hammers and strings. It is used in classical and jazz music for solo performances, ensemble use, chamber music and accompaniment. The piano is also very popular as an aid to composing and rehearsal. Read more at Wikipedia.org
History of piano building in Canada.
The Piano Time Line: A Chronological History
Types of Pianos
The Piano Glossary includes terms used by knowledgeable piano tuners and rebuilders. Sources: Forte Piano Company, Detroit, Michigan, USA.
How to Buy a Piano
Piano Value
Piano Age
Location for a Piano
Grey Market "Wet" Pianos
History of the Piano
Find the Serial Number of a Piano
Once you find the make and serial number of a piano, you will be able to find the year the piano was made.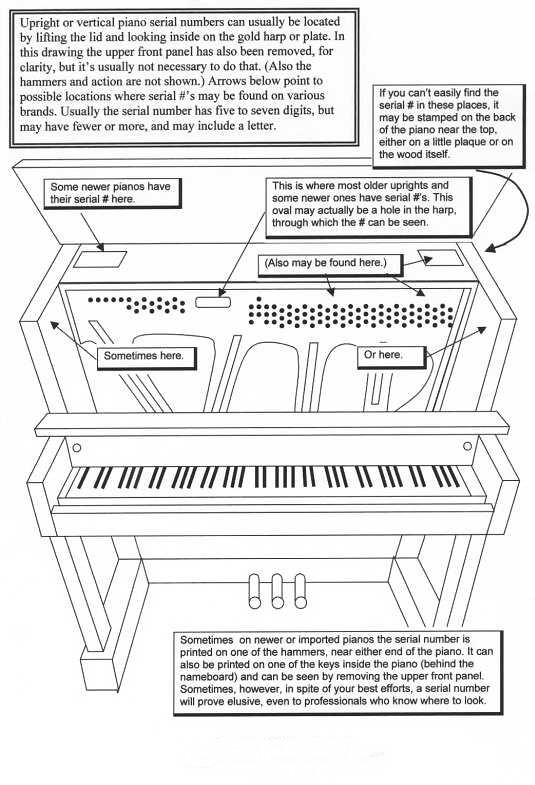 How Old is Your Piano?
Recommended Piano Dealers
The following are recommended piano dealers in the Toronto GTA.
Piano Dealers
The following are piano dealers in the Toronto GTA. Use at your own risk.
Burlington, ON L7L 6B5 phone: 1-888-742-6681 Piano brands sold include Young Chang, Niemeyer, Hobart M. Cable, Sherlock Manning and used Yamaha, Kawai and Samick.
Piano Examples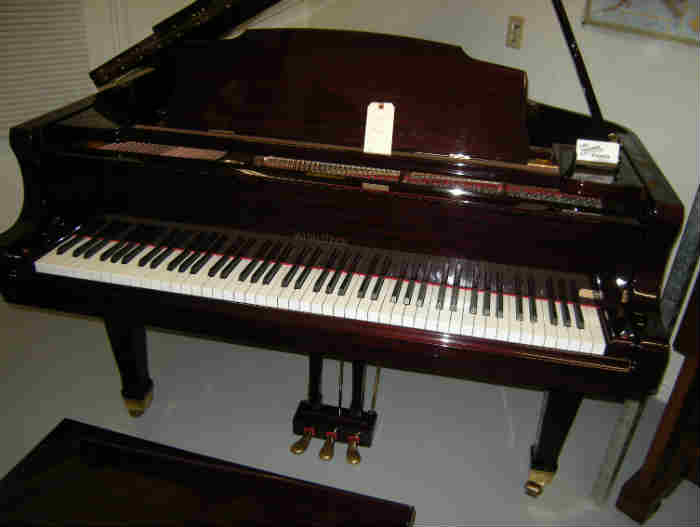 This 5" 2' G-452 Wurlitzer piano was made by Young Chang in 1989. The serial number is 2056462. For a number of years, Young Chang made Wurlitzer brand verticals and grands in Korea which were marketed in the United States by Baldwin Piano & Organ. The Wurlitzer brand pianos were reportedly identical in construction to their Young Chang brand counterparts. The Wurlitzer electric piano was used on these songs.
Piano Tuning
Piano Rebuilders, Technicians and Tuners
Piano Regulation
Regulation is the adjustment of the mechanical parts that make up the action, keyboard, and trapwork, to compensate for wear in the cloth, and dimensional changes in the wooden parts. Regulation ensures that a piano is capable of producing a uniform touch, fast repetition, and wide dynamic range. With over thirty-five points of adjustment per note in a grand piano and twenty-five in an upright, regulation is a skilled job that takes a considerable amount of time to complete.
A need for regulation may show its ways for many ways. Inability to execute fast passages or legato touch may mean your piano needs regulating, rather than that you need to practice more, and bubbling or blocking hammers can destroy the tone of any instrument. An unregulated piano will not only perform poorly, but may have a shorter life span. Unnecessary and uneven wear develops as parts become misaligned and those that meant to push start to punch; and hammers break if they are unable to escape the pianist's finger pressure before they hit the string. Source: Forte Piano Company, Detroit, Michigan, USA
Caring for a Piano
Read your piano manufacturer's manual and follow all advice. Have a piano technician check over, voice and tune your piano.
The cabinet can be cleaned with a damp T-shirt. Use plain water. Ask your technician how to polish your piano. A piano that is not tuned and played will lose value. A piano that is tuned faithfully and played regularly will sound better and retain more value as an instrument.
Cleaning the soundboard is best done with a vacuum cleaner hose held *just above the strings* on a grand piano. Don't touch anything with the hose. The back of an upright can be carefully vacuumed with a brush attachment. Small dry paint brushes can be used in conjunction with vacuuming in the corners if your technician has given you some training. Please have the technician remove foreign objects from your piano. The bottom of an upright is where the dust settles.
Controlling moisture is the main thing. Installing a humidifier system with a "humistat" can be of great help. These contraptions fit inside the piano and maintain a constant level of around 40% relative humidity by adding or subtracting moisture as required. Source: Master Piano Technicians
One great favor you can do for your piano is climate control. Whether by room or whole house, stable temperature and humidity will help keep a piano in good shape. Source: Pete Summers Piano Tuning
"Tuning means correcting the pitch of every note by retightening the strings. Each piano string is normally stretched to a pressure of about 90 kilograms (198pounds). Eventually, though, it will stretch further with use and lose some of its tension, causing the piano to lose its correct pitch. The strings need to be tuned a minimum of twice a year to restore them to their proper tension.
Adjustment involves the entire piano action, keyboard and pedal movements. Proper adjustment is especially important for grand pianos. Whether the piano will perform properly or not depends on how accurately the adjustment is made." Source: * Yamaha Canada.
"The second most important thing you can do for your piano after tuning, is to control the humidity in the environment that the piano is being kept in. There isn't a piano made that will stay in tune if it is exposed to dramatic swings in humidity. The parts of a piano are made of metal, felt and wood. The cast iron plate and steel strings are not greatly affected by high humidity or extreme dryness. But the felt and wood components will swell with rising humidity or shrink when the air dries out." Source: Thomson Lawrie Piano Technician.
Piano Repair
Piano Movers
Always select a professional piano mover to move your piano. Do NOT use a regular household mover Why use a professional piano mover? How much does it cost to move a piano?
Piano Lessons Online
Piano Training Courses
Piano Music and Method Books